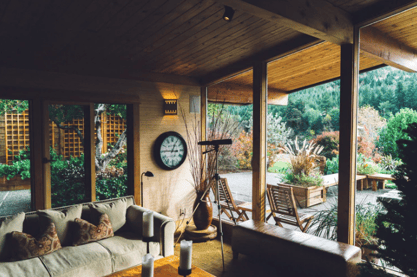 #GoGreen Isn't merely a trendy hashtag and buzzword, it's a lifestyle! Simple ways to foster a greener planet in your day-to-day life may be recycling materials or using a Nest thermostat to regulate your energy spend. But, what does it look like to design a green home?
Does it mean you have to pitch and live in a cardboard tent? Of course not! There are ways you can implement a green home design that allow you to continue living comfortably while reducing your harmful environmental waste and footprint.
EAS values reliability and integrity, but also carefully considers who we work with and the materials we use to manufacture our impact windows and doors. Likewise, it requires similar considerations of every aspect when designing your home and choosing products—especially how they impact on your wallet and the environment.
With plenty of research and technology accessible at the push of a button, there's no excuse for not building an environmentally conscientious home design.
5 Things to Avoid for Your Green Home Design
Whether you're a newbie to the green lifestyle or a pro green warrior, here are five big no no's to avoid for your environmentally friendly home design.
1. Avoid Designing More than You Need
You're familiar with the saying bigger is better, but not for a green home. In the children's story, Goldilocks and the Three Bears, she carefully considered her options and found the perfect fit for her needs.
That's what your green home should be—just right for you. If you have excess room, that means excessive heating and cooling costs, which wastes energy and your money.
However, you do want to consider your lifestyle and future plans, i.e. expanding your family, taking in elderly relatives, being an empty nest etc. Think ahead and consider what sustains your current and potential needs down the road.
2. Avoid Picking the Wrong Location
You may love the idea of total seclusion, but try to avoid building your green home in the middle of nowhere, as it could damage the existing serene ecosystem. Instead, consider somewhere a bit closer to town, with sufficient space and privacy.
3. Avoid Fuel & Coal Consumption
Reducing your fossil fuel and coal consumption is beneficial to your wallet and the environment. Go solar instead, but be sure your green home design includes southern facing sun exposure and installations designed to absorb and radiate the sun's heat.
4. Avoid Putting off Your Research
Doing your research now will pay off later. Take some time to research your green building options and the ample environmentally responsible materials and products available for every price point.
5. Avoid Increasing Your Footprint
The basic principle of a green home design is to minimize your harmful environmental footprint as much as possible. You can start with good insulation.
Florida Energy Code assessors recognize the importance of a home's insulation and its ability to prevent heat loss and gain via walls, windows, roof and foundation.
How well your home is insulated will determine how much energy and money you can sustainably save year over year.
Click the button below to learn more about how the EPA evaluates and regulates your windows and doors.