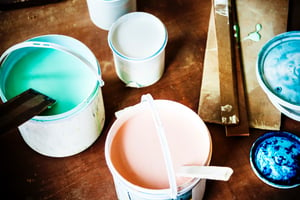 Whether it's for your own comfort or for putting your home on the market, DIY renovations and remodels are an increasingly a popular choice amongst homeowners. DIY projects are an affordable and fun way to get the results you want and get a good return on investment.
We've categorized and listed our favorite DIY home improvement projects that will enhance your home's look and value. Happy DIY-ing!
Update your style with a splash of paint
Paint is a versatile tool that any DIY'er should keep in their toolkit. By adding a simple coat of paint, you can transform the look and feel of a room.
Just be sure that you are using the appropriate paint i.e. outdoor, gloss, flat etc. Here are a few spots to apply a fresh coat of paint:
Walls
Cabinets
Stairs
Baseboards
Spruce up any room by updating the hardware
This is the simplest, least time consuming update with the lowest commitment. Swapping out your hardware and certain fixtures may seem like a minor adjustment, but it can make a big difference.
Some areas to consider easily updating, include:
Kitchen and bathroom faucets
Shower heads
Cabinet and drawer pulls
Door knobs
Make your rooms sparkle with lighting
From the light bulbs to the light fixtures, it's important to get the lighting just right to make your room sparkle. You can do this by using a dimmer to easily change the mood of a room.
Other ways you can DIY your lighting to enhance your home's look include painting your exterior light fixtures and interior plate covers with a fun color or unique design.
Keep your entryways inviting
Windows and doors are your home's entry points, which is why they should be top-of-the-line and inviting for your guests. Replacing them with impact glass solutions is a great way to enhance your home's protection, reduce your energy bills, and update your style.
Try getting a bit creative by adding a window film or tint, or installing an impact glass french door to improve your home's overall value.
Miscellaneous DIY updates
There are plenty of miscellaneous nooks and crannies of your home you can creatively update and DIY. Here are some ideas to get your started.
Add a backsplash to your kitchen walls
Replace your bathroom countertop
Create a wood pallet wall in your home
Stencil your walls with a unique design
Build raised flower beds in your front or back yard
Whichever DIY projects you choose to update your home's look and value, just remember to use the appropriate materials and above all have fun.
To learn how to shop for impact glass windows and doors, click the button below and download our most recent guide!