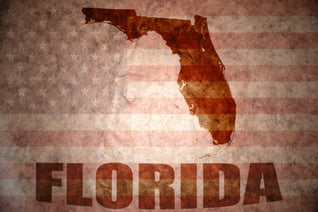 We've given you the inside scoop on the latest, 5th edition, of Florida's Energy Code which is why we think it's about time we give you a quick peek at what's in store for the 6th Edition of Florida's Building Code.
Florida's Building Code, published in 2014, encompassed a variety of topics from definitions, energy efficiency and roofing to inspections, soils and foundations.
But enough talk about the past, we're moving forward! Throughout this post we'll address a few things to add to your radar, including:
Which Building Code Edition the 6th one is founded on

What supplements were created for certain 2015 building codes
Keep scrolling to see some things to expect in the latest building codes for Florida.
2015 International Building Codes (I-Codes) Is the Foundation
That's right, the 5th Edition will serve as the foundation for the 6th, and it will include specific amendments for items, such as:
The state agency regulation

High Velocity Hurricane Zone wind standards
It will also encompass those law mandated code provisions within the 5th Edition along with various supplements to some existing codes.
Supplement to Section 102
As a supplement to the the building base code in the 2015 IBC, Section 102.1.1 will be added to state,
"The Florida Building Code does not apply to, and no code enforcement action shall be brought with respect to, zoning requirements, land use requirements and owner specifications or programmatic requirements which do not pertain to and govern the design, construction, erection, alteration, modification, repair or demolition of public or private buildings, structures or facilities or to programmatic requirements that do not pertain to enforcement of the Florida Building Code.

Additionally, a local code enforcement agency may not administer or enforce the Florida Building Code, Building to prevent the siting of any publicly owned facility, including, but not limited to, correctional facilities, juvenile justice facilities, or state universities, community colleges, or public education facilities, as provided by law."
Supplement to Section 105.1
As a supplement to the the building base code in the 2015 IBC, Section 105.1 will be changed to state,
"105.1 Required. Any owner or owner's authorized agent who intends to construct, enlarge, alter, repair, move, demolish, or change the occupancy of a building or structure, or to erect, install, enlarge, alter, repair, remove, convert or replace any impact resistant coverings, electrical, gas, mechanical or plumbing system, the installation of which is regulated by this code, or to cause any such work to be done, shall first make application to the building official and obtain the required permit."
Supplement to R4501.17.1.9
The following are supplements to the 2015 IRC section R4501.17.1.9 and are applicable when a wall of a dwelling serves as part of the barrier, including:
"1. All doors and windows providing direct access from the home to the pool shall be equipped with an exit alarm complying with UL 2017 that has a minimum sound pressure rating of 85 dB A at 10 feet (3048 mm).

Any deactivation switch shall be located at least 54 inches (1372 mm) above the threshold of the access. Separate alarms are not required for each door or window if sensors wired to a central alarm sound when contact is broken at any opening.

Exceptions:

Screened or protected windows having a bottom sill height of 48 inches (1219 mm) or more measured from the interior finished floor at the pool access level.

Windows facing the pool on floor above the first story.

Screened or protected pass-through kitchen windows 42 inches (1067 mm) or higher with a counter beneath.

All doors providing direct access from the home to the pool must be equipped with a self-closing, self-latching device with positive mechanical latching/locking installed a minimum of 54 inches (1372 mm) above the threshold, which is approved by the authority having jurisdiction.

A swimming pool alarm that, when placed in a pool, sounds an alarm upon detection of an accidental or unauthorized entrance into the water. Such pool alarm must meet and be independently certified to ASTM Standard F2208, titled "Standard Safety Specification for Residential Pool Alarms," which includes surface motion, pressure, sonar, laser, and infrared alarms.

For purposes of this paragraph, the term "swimming pool alarm" does not include any swimming protection alarm device designed for individual use, such as an alarm attached to a child that sounds when the child exceeds a certain distance or becomes submerged in water."
Supplement to R609
The following is a revision of section R609 in the 2015 IRC regarding exterior windows and doors to read as follows:
"R609.1 General.

This section prescribes performance and construction requirements for exterior windows and doors installed in walls. Windows and doors shall be installed and flashed in accordance with the fenestration manufacturer's written instructions. Window and door openings shall be flashed in accordance with Section R703.4. Written installation instructions shall be provided by the fenestration manufacturer for each window or door.

R609.2 Performance.

Exterior windows and doors shall be designed to resist the design wind loads specified in Table R301.2(2) adjusted for height and exposure in accordance with Table R301.2(3) or determined in accordance with ASCE 7 using the allowable stress design load combinations of ASCE 7. Design wind loads for exterior glazing not part of a labeled assembly shall be permitted to be determined in accordance with Chapter 24 of the International Building Code Florida Building Code-Building."

*You can view and download all the 6th Edition (2017) Florida Building Code-Code Development and Florida Supplements to the base code here.