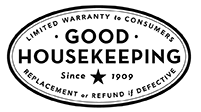 Most manufacturers will offer their own warranty on the windows and doors you purchase. So, why should you look for the Good Housekeeping Seal?

Here's why:
These products have passed a strict review by the Good Housekeeping Research Institute. Products aren't "given" the seal—they earn it.
When a product earns the seal, you know the product has been thoroughly evaluated by the scientists, engineers and technicians at the Good Housekeeping Research Institute.
Good Housekeeping is the oldest consumer product-testing lab of its size in America—it began in 1909, so it has history you can trust.
The Seal lets you know that this product has an additional 2-year money-back guarantee provided through Good Housekeeping—it gives you, the consumer, financial protection that other labels and certifications do not.
Good Housekeeping will replace or refund defective products within two years of purchase, so you can shop worry-free. "They don't just trust—they verify."
-The Wall Street Journal, February 2, 2010
Eastern Architectural Systems (EAS) dealers are the only ones in Florida that carry the Good Housekeeping Seal, a 2-year money-back guarantee on top of the warranty that is offered through the dealer and through EAS.
Also, at EAS, we now offer a 20-year warranty on our insulated glass! We also offer a limited lifetime warranty on our vinyl windows and doors as well as warranties on many other products.
Call EAS today at 800-686-8902 to get more information!
Visit the Good Housekeeping FAQ section to find out more.
---
Do you have more questions about the Good Housekeeping seal? Are there other topics you'd like to see discussed in this blog? Please let us know. We want to be your source for industry information as well as windows and doors.
---