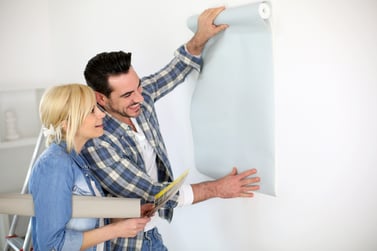 The aesthetics of your home can affect several aspects of your day-to-day life, such as your mood and productivity.
You may want to update and renovate your home, but are you lacking a starting direction, resources or a large budget to do it?
What if there were several low-budget home improvements and modifications you could do to improve both your home's value and aesthetics?
10 Budget Friendly Home Improvement Ideas
Thanks to Pinterest, HGTV and DIY bloggers, there are plenty of mini-facelifts you can make to your home, and we're dishing out our favorite 10 home improvement ideas for you.
#1 Mini Bathroom Modifications
You can modify a few parts of your bathroom(s) without undergoing a complex renovation or breaking the bank. Try adding a fresh coat of paint and swapping out your faucets, shower heads, medicine cabinets and mirrors.
Plus, check out your local hardware stores, such as Lowes, who have granite countertops for as low as $150 (depending on the size) if you want a little extra aesthetic boost.
#2 Lighting
Freshen up your lighting and set a different mood by swapping out your light bulbs and fixtures with chandeliers or track lighting--plus, you could potentially reduce energy waste depending on the lightbulbs you choose. Not looking to change the fixtures? Try changing the lampshades if you have that type of lighting.
#3 Install Pull-out Cabinet Drawers
Very few people find it exciting to rummage through their kitchen cabinets looking for that one post or dish.
By installing pull-out cabinet drawers, you're able to better organize and find those serving dishes that get tucked away, never to be found again.
#4. Organizing Closet Spaces
It's amazing how everything can somehow manage to fit in the closet. The not-so amazing part is never finding them when you need them.
If that's a daily struggle, then a closet organizer may be the perfect home improvement installment for you. Plenty of retailers, such as Ikea, have closet organizers that are easy to install and accommodate closets of all shapes and sizes.
#5. Kitchen Faucet Upgrades
You can swap out your kitchen faucet with a modern design that combines function and design. Choose a faucet that goes beyond aesthetics and works well for your needs.
#6 Update Your Door & Cabinet Hardware
It doesn't always have to be a lavish remodel or renovation; don't discredit the little things that can go a long way. Update your knobs or handles on cabinets, doors and drawers to help you subtly transform the look and feel of the room.
You may even consider keeping a few different sets with your holiday decor storage, swapping them out seasonally or for different occasions.
#7 Programmable Thermostats
Not all home improvements are purely visual--some offer more comfort and reduced energy bills. By installing a programmable thermostat, you'll help to increase your house value, reduce your energy bills and live more comfortably.
#8 Update Your Kitchen Cabinets
Updating the lighting and cabinet knobs, adding backsplashes and cabinet rollers are a few improvements that make a major difference. But, if you want to take it a step further, you may want to consider updating your kitchen cabinets by painting or staining them or even painting a two-tone to add dimension and spice them up.
#9 Stick-on Backsplash for your Bathroom and Kitchen
You don't have to spend hours and resources tiling a backsplash. Consider applying a peel-and-stick style backsplash, such as brick or stone, to create virtually any texture and look you want.
#10 Update Your Installations
Windows and doors help insulate your home, better regulating your temperature and keeping you safe during hurricanes. Consider upgrading to impact windows and doors that work for you and meet your lifestyle, design and functionality needs. Click the button below to learn about all the design and glass options available to you!