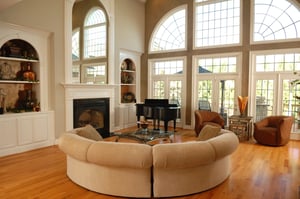 What means the most to you when you're shopping? Is it a company's values, customer service, product quality, or product effectiveness and efficiency? At EAS, we hold ourselves accountable for all of the above...and then some.
There are many quality companies to buy from, but they may not always offer a holistic solution for your needs.
With style and function in mind, we're able to provide you with a variety of customizable solutions and peace of mind to boot.
Top 2 Benefits of EAS Products
From our customers to our partners, EAS integrates three core principles, quality, reliability and integrity, in everything we do.
1. Wide Variety of Customizable Solutions
Having product variety when you shop is important, but having product variety paired with customizable features is the ultimate solution.
EAS has an expansive product line with several customizable elements from function and frame material to glass package and style as outlined below: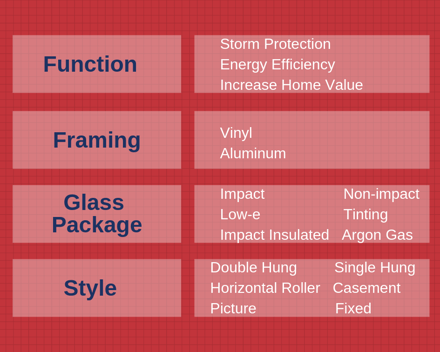 2. Peace of Mind
What gives you peace of mind when you purchase products? Is it a money back guarantee, word of mouth, accreditations, seals of approval? Those are just a few ways we help give you peace of mind when you purchase from any EAS window and door dealers.
Good Housekeeping Seal
The Good Housekeeping Seal has been around since 1909 and all of the products that carry the Seal have gone through rigorous testing in the Good Housekeeping labs.
EAS offers the only vinyl windows in Florida that carry the Good Housekeeping Seal, which is a two-year money-back guarantee on top of your dealer and manufacturer warranty.
Warranty
Are you more willing to trust a product or even a company if they offer to financially back their product? EAS offers you a 20-year warranty on our insulated glass windows and doors, a limited lifetime warranty on our vinyl windows and doors as well as warranties on many other products.
Florida Product Approved
Florida Product Approved windows and doors are set for all construction trades by the state to determine if the product meets state requirements, including high velocity hurricane zones(HVHZ). And, all EAS products are Florida Product Approved.
Partners
EAS believes that quality products result from good work ethic and good company which is why we are partners with the best in the industry, including:
Cardinal Glass Industries, the largest fabricator of sealed insulating glass units and supply over half the low-emissivity coatings used in North America.

Deceuninck North America, a fully integrated design, compounding, tools, and extrusion company that produces vinyl window and door systems

PPG Industries, the leading global coatings and glass specialty products company.
Sapa Extrusions North America, a leader in a full range of extruded aluminum profiles for residential and commercial building
What Brand Will You Trust?
Whether you love shopping or hate shopping, there are elements that you look for when buying a window or door, whether it's a company's values, customer service, product quality, or product effectiveness and efficiency.
EAS offers a variety of multi-faceted solutions designed to save you money and keep your family safe. What window and door brand do you trust and why? Let us know in the comments below.