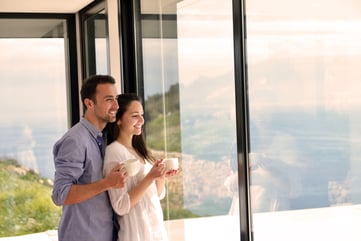 Whether you are letting excess moisture escape your home or letting the cool crisp air in, windows and doors play an integral role in the structure and ventilation of your home.
There is more to a variety of fenestration options than great views.
Your home's window and door installations are not only responsible for ventilating your home, but can also improve its energy efficiency and curb appeal.
3 Game-changing Fenestration Trends
With the many advances in materials and technology, windows and doors have been designed to be more energy-efficient, durable and secure.
More homeowners than ever are simplifying their home designs to foster a deeper connection with nature. The following are three major fenestration trends that are changing the game.
#1: Oversized Windows
Bigger is better when it comes to fenestration. More and more homeowners are requesting oversized windows and doors that multi-slide, or lift and slide to better connect indoor and outdoor living.
#2: Technology Advances for Fenestration
Fenestration has come a long way when it comes to style, size, and engineering technology used to manufacture windows and doors. This has enabled these installations to better withstand and improve higher quality and performing materials and aesthetics.
According to research by Home Innovation Research Labs,
"...vinyl windows command a 53% market share among all window-frame materials (and even more so among production builders), twice that of wood."
#3: Privacy and Security Windows Provide
Fenestration designs are also trending to improve the quality of windows to provide homeowners with enhanced privacy and security.
Applying tints and selecting impact glass installations can drastically reduce the impacts of noise pollution along with other outside element intrusions.
Choose Timeless Fenestration Trends with the Help of EAS
Technology is constantly evolving and advancing in every industry. The latest fenestration trends are evidence of that allowing homeowners to better connect with nature and improve their home's energy efficiency and security.
Eastern Architectural Systems manufactures a myriad of high-performance window and door installations. Click the button below to learn more about how you can benefit from our solutions and better understand your window performance with our guide on energy-efficient windows.