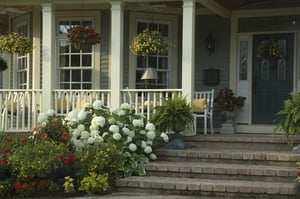 Homeowners associations all have different governing neighborhood rules, restrictions, fees and more to maintain aesthetic uniformity in a neighborhood. Some rules typically include how you park your vehicles, exterior paint colors, whether you can park commercial vehicles or water vessels in your driveway and several other little rules to follow.
Your windows and doors are just one of many barriers that separate the inside and outside of your home while helping to improve your homes ventilation, comfort, energy efficiency, protection, natural illumination and much more.
Your windows are seen both outside and in, and when you choose to do a window and door replacement, you should choose ones that architecturally meet your homes design style and comfortably accommodate your lifestyle.
However, you'll also want to make sure they are in-line with your homeowner's association's rules and regulations.
Many of them take note of the windows style, color and type and create rules around those features to maintain your neighborhood's aesthetic.
To help you understand these components, we've listed a few examples of each area below, starting with window styles.
1. Window and Door Replacement Styles
There are several different styles you can choose from, but again it depends on what styles your HOA will allow. Your options may include casement, fixed, horizontal roller, picture windows and more.
2. Window and Door Replacement Types
The type is really just the framing. This is where you'll choose the framing material, typically aluminum and vinyl are the most ideal in Florida because they are easy to maintain and energy efficient.
3. Window and Door Replacement Colors
Color has such an impact on your home's and neighborhood's aesthetics. For the most part, vinyl and aluminum framing are popular and versatile allowing you to choose from an array of color options such as white, bronze, black etc.
Those are the three basic elements when it comes to knowing which HOA rules to look for prior to buying your window and door replacements.
Click the link below to download a window and door shopping guide we've put together to help you choose the best window and door replacement that meets your design and lifestyle needs. Just be sure to review your HOA rules and regs to stay compliant with your neighborhood's aesthetics.