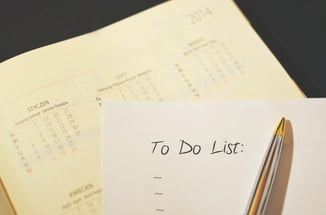 Florida winters may not be as intense as other states, but they can still lead to burrowing in our homes, lighting a fire, and ensuring our dwellings remain warm and cozy throughout the season.
Many structures are subject to wear and tear throughout each season of the year. Though the state can reach a few chilling temperatures throughout the winter season, homes in Florida do not have to withstand the impacts of snow.
To keep your home comfortable, reinforced, and protected throughout this season, there are a few things you should check off your seasonal home maintenance list.
3 Items to Check-Off Your Home Maintenance List This Winter
The following are three items we have compiled for you to easily check off of your home maintenance list this winter to help keep your home cozy, merry, and bright this season.
Re-stock Your Emergency Supplies
Florida infrastructures and homes may not experience snow damage, but it can get windy at times which could cause damage or the temperatures could get chilly enough that your pipes may freeze if you haven't taken the proper precautions.
As a Floridian, you likely have an emergency supply kit prepared for hurricane season, but you may also need to utilize it in the winter. Double-check your hurricane emergency supply to ensure you have a few gallons of water, batteries, flashlights, and some easy to prepare food like canned goods in case there is a power outage or your pipes become frozen.
Clean Your Chimney
If your Florida home has a fireplace or chimney, you probably rarely use it except for those chilly nights. This means you may not have thought about cleaning it for some time now which can be dangerous because chimneys build up layers of highly flammable creosote and can result in an unwanted chimney fire which can cost thousands of dollars in repairs.
You should also make sure your flues are open, clean, and free of any blockages as that can potentially lead to carbon monoxide poisoning. On that note, you may want to check your carbon monoxide detectors too.
Install High-Performance Windows & Doors
Maintaining a comfortable temperature throughout your home during winter, or summer, in Florida can be challenging, expensive, and taxing on your thermostat. Make sure your home's HVAC and heating systems have been maintained and you have periodically changed out your air filters.
Homes often lose up to 30% of their energy use, or hot and cool air, through their windows and that percentage can be worse the older the windows. This costs you comfort throughout the year and can result in hundreds of dollars wasted on energy bills. Consider upgrading your windows to ENERGY STAR-rated and energy-efficient installations to help save you money and keep you cozy and jolly throughout the year.
Helping You Keep Your Home Cozy This Season
There are several ways to help keep your home comfortable throughout the year, including upgrading your windows and doors to installations that better insulate and regulate your home's temperature.
Click the button below to download The Homeowner's Guide to Energy Efficient Windows and learn more about how they work, how much money they help you save, what style options are available, and more.