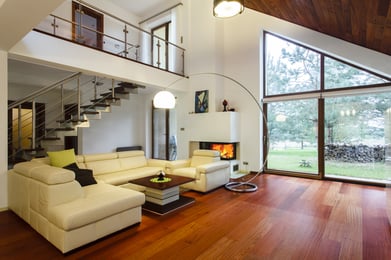 Architecture has been evolving since the Stone Age. Nowadays, homes are designed with a bit of luxury, a dash of curb appeal and plenty of functional features.
From materials and blueprints to square feet and location, each home should be uniquely designed to meet your lifestyle, comfort, budget and needs.
While homeowners in the Northeast must consider the impact of harsh winters and snow, Florida homeowners have to consider how the intense summer heat and moisture impacts their homes and installations.
6 Florida Architectural Design Trends
There are several design trends that architects have been perfecting to accommodate all climates and lifestyles, some of which are listed below. Keep reading to see all six architectural design trends for Florida homes!
#1 Built to be smart
Technology is no longer seen as a bonus feature; it's a standard part of today's home designs. Smart technology, such as lighting controls and sensors, is integrated into the design of the home rather than offered as additional features.
#2 Optimizing square footage for flexibility
How often do you use your dining room? If you're like most homeowners, then probably not often. Architects are designing homes to be more flexible so homeowners are able to choose the function of each room, which helps to truly maximize a home's square footage.
#3 Sustainable designs
Sustainable designs are a key aspect of any new design. Architects are opting to design with local, sustainably sourced materials including energy efficient installations, such as ENERGY STAR windows and doors.
#4 Quality counts more than square feet
Homeowners are more conscious of their carbon footprint and quality materials. They're foregoing lavish square foot mansions for smaller, more durable homes built with higher-end, quality materials that last longer with the same budget.
#5 Segmented open spaces
Open spaces have been a popular architectural design for years now--and that's not changing any time soon. However, there is always room for improvement.
The recent trend is open rooms so it feels like you're seamlessly, conciousienssiously moving from one room to another. This may be via a raised floor or a higher ceiling.
#6 Modernizing the adored farmhouse
The farmhouse design is getting a modern facelift. This architectural design has the familiar cozy charm of a farmhouse, but with a clean twist of architectural lines minimizing that clunky, cluttered feel associated with traditional farmhouse designs.
How will you incorporate these architectural design trends into your Florida homes? One way to start is with energy efficient installations. Click the button below to download your copy of Aluminum & Vinyl Window Performance and the EPA!