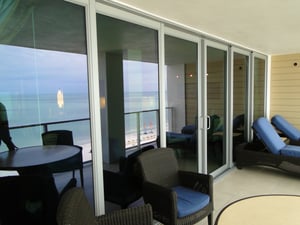 Sunshine is a year-round staple that Floridians and tourists enjoy. However, when it comes to your home installations and energy consumption, the year-round sunshine can be a little too harsh.
Florida homeowners look for hacks, tips and tricks to reduce their energy bills and keep their home cool in the summer while maintaining their home's structure.
With hurricanes being an annual threat, homeowners and builders are increasingly choosing to install impact windows and doors. They are also better equipped to regulate the comfort and temperature inside a home or building.
Impact windows are unique installations because they are made of impact-resistant glass which keeps objects from breaking through the glass and causing any structural damage.
Many homeowners don't just want hurricane protection, but may also want an additional component of privacy from their impact glass windows.
That's when tinting typically comes into play. This option provides several benefits, including blocking out the sun's UV rays and preventing your furniture, fabrics, and interior textiles from fading.
You may be wondering since you can't add a tint to a low-e glass coating, can you add a tint to your impact glass windows and doors due to their more complex structural makeup?
The answer is yes! Tinting your impact glass is possible and doesn't ruin the integrity or makeup of your impact glass windows.
Now the only question is what's the best way to get started? There are two methods to tinting your impact windows and doors, the do it yourself method and the professional approach.
If you choose to DIY your windows and doors, make sure you are using an appropriate tint material that works with your windows' solar absorption rate.
There is also a variety of window tint options that allow for effective and nearly invisible selections.
Aesthetics aside, there are a few intricate details to factor in when tinting your impact windows, including the following two rules of thumb:
Avoid using tinted films that have a 50% or higher solar heat absorption
Don't use automotive film on your residential impact windows
The second method to tinting your windows is to hire a professional or add a tinting customization when you're shopping for your installations.
If you're considering upgrading your installations with energy efficient, impact hurricane windows and want the added benefits of a tint, click the button below to download our shopping guide to customize the perfect window that meets your budget and lifestyle needs.