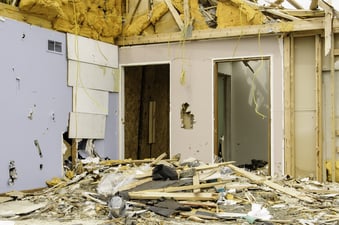 Floridians enjoy sunshine nearly all year round; however, hurricane season is inevitable.
With large home and economic impacts from hurricanes, it quickly becomes the time of year when you scramble to find plywood and nails, water and bread, fuel and generators.
"The Congressional Budget Office estimates that 1.2 million Americans live in coastal areas that are at risk of substantial damage from hurricanes. The CBO defines substantial damage as at least 5% of average income.

Most of these densely populated areas lie less than 10 feet above sea level, according to the National Hurricane Center. It also estimates that government costs for hurricane damage are $28 billion a year. Florida contributes 55% of that, and Texas and Louisiana add 13% and 9% respectively." - The Balance
Preparing your home for an impending hurricane looks different to each homeowner, some choose the plywood and nails route while others avoid the hassle by installing impact glass windows and doors.
Common Types of Hurricane Damage
Hurricanes can impact homes and communities in different ways. Below are 4 common types of damage caused by hurricanes.
High-Speed Projectiles
Hurricane strength winds have the power to uproot trees, outdoor furniture, cars, debris and more turning them into high-speed projectiles that can break through your glass doors and windows. Once your home's envelope is broken, it can result in extensive, additional damage.
Engulfing Objects in a Storm Surge
Storm surges are the deadliest result of hurricanes. The hurricane winds can cause sea levels to rapidly rise as the hurricane makes landfall. These surges can pummel the area, engulfing any object its path.
Flooding Damage
Prolonged rainfall accompanies hurricanes, which can result in significant flooding--up to 50 inches, as recorded for Hurricanes Harvey and Irma. This can damage lower levels of buildings, vehicles, vegetation, etc.
Spin-Off Tornadoes
Hurricane wind speeds can easily create several smaller tornado paths, uprooting trees and homes, creating more windborne debris projectiles.
Reducing Types of Hurricane Damage to Your Home
You may not be able to eliminate every type of potential damage caused by hurricanes, but there are ways to reduce the extent of damage they can cause.
Installing impact glass windows and doors helps create a tighter seal to the envelope of your home reducing water infiltration and windborne debris from breaking through and wrecking havoc.
Click the button below to learn more about replacement window and door options for your home this hurricane season.