There have been a lot of questions – and confusion – about the new Fifth Edition Florida Energy Code slated to go into effect June 30, 2015. We thought it was the perfect topic to address in our first blog.

---
What do the new codes cover? The commercial and residential building energy codes cover a wide range of systems, including heating, air conditioning, electrical, lighting, and fenestration. For contractors, builders and homeowners that last part (fenestration) means new and replacement windows and doors must meet a minimum energy value for compliance. The lower the number, the better the energy value.

Why the change? The new version is based on the International Energy Conservation Code. According to the U.S. Department of Energy, the code updates will save Florida communities and homeowners nearly $720 million a year in energy costs by 2030.

What buildings are affected by the change? All residential and commercial buildings, whether new construction or remodels will need to meet the new U-values.

Is all of Florida affected by the change? Yes. However, counties designated in the expanded Climate Zone 1 have different requirements compared to the rest of the state. Those Zone 1 counties include Miami-Dade, Broward, Monroe, Palm Beach, Lee, Hendry, and Collier.

Old Code 2015 Code – Expanded Zone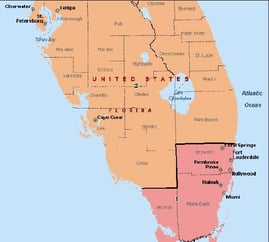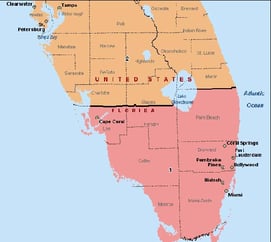 What are the new requirements? Minimum U-values will vary based on a variety of factors. Here's the breakdown:

Zone SHGC U-Value (non-impact) U-Value (Impact)
Zone 1 0.25 0.65 0.75
Zone 2 0.25 0.40 0.65

New Construction vs. Retrofits
On remodel projects, contractors must select windows with the required U-Factor/SGHC. For new construction, however, builders have two options for meeting the new fenestration requirements:
Prescriptive – Choose windows and doors that meet or exceed the required U-Factor/SGHC
Performance – Bring in an energy expert to compare the building to a baseline and determine whether the overall building energy use is compliant. (This method offers more flexibility in choosing products that don't comply with the prescriptive requirements as long as the overall building energy use is lower than required.)

Note: Keep in mind that these are base requirements. Some municipalities can, and often do, enact more stringent requirements. Always check local building codes.

How will I know if my window meets the new requirements? Window manufacturers provide U-Factor labeling. When in doubt, check the window glass.

Are windows that meet these new standards currently available? Yes. At Eastern Architectural Systems, we have products designed to meet this code. Consult with local distributors to find out what's available in your area.


---
Do you have more questions about the new Fifth Edition Florida Energy Code? Are there other topics you'd like to see discussed in this blog? Please let us know. We want to be your source for industry information as well as windows and doors.
---