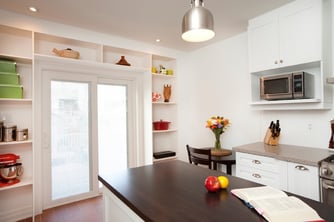 Windows and doors play an integral role in any structure and can help prevent water intrusion. Here is how Eastern Architectural Systems high-performance installations can help.
Moisture buildup in an enclosed building or home can result in harmful damages to its physical structure, compromise the indoor air quality, and damage the belongings and personal property inside.
Whether a pipe bursts or moisture from inclement weather seeps into your home, if the water intrusion is not dealt with immediately, it could be the perfect habitat for mold and fungal growth and negatively affect your pocketbook to repair the damages.
How-to Help Prevent Water Intrusion
Sometimes, water intrusion and its damages are inevitable. However, there are several measures you can take to help prevent a majority of significant water intrusion causes.
When it comes to keeping certain elements outside of your home, the components of your windows and doors can make a difference. For example, at Eastern Architectural Systems, our solutions reflect our core values encompassing quality, reliability and integrity.
The material suppliers we partner with are some of the most well-known in the industry and help us provide you with the highest quality aluminum alloys, vinyl, weather stripping, and glass.
Our windows and doors go through a rigorous quality-check process to ensure optimal function and help prevent water intrusion which is another reason we confidently back all of our products with our warranty program. And, as a manufacturer of Earthwise windows and doors, those products also carry the Good Housekeeping Seal which is another way we help give you peace-of-mind.
Aside from choosing high performance installations, such as EAS windows and doors, to help prevent water intrusion and its associated damages, the following are a few additional steps you can implement, including:
Inspecting and clearing your roof drains and gutters
Maintaining any sealants
Inspecting and maintaining plumbing and HVAC systems
Investigating any water stains you notice
Click here to download our guide and learn how you can help eliminate moisture build-up on your interior glass installations. Or click the button below to find high performance installations to better seal your home and help prevent water intrusion.