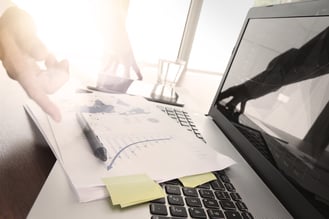 The window and door industry has seen a lot of change over the past several decades and learning how to navigate it in the eCommerce world is one of the more recent changes.
The traditional ways of selling business to business (B2B) and business to consumers (B2C) have shifted in nearly every industry from face to face, to online.
While eCommerce selling has many more substantial benefits, such as improved convenience and efficiency, it is not without its own set of creative obstacles that industry pros must learn to navigate.
Understanding B2B eCommerce
Before diving into how to navigate the window and door eCommerce landscape, you may be wondering what exactly it is.
The vast majority of the population is actively engaging in eCommerce when they purchase products or schedule services online either through a third party, such as Amazon and eBay, or directly from the seller's website which is B2C eCommerce.
B2B eCommerce is that same principle, but from business to business, and can look a little or a lot different depending on your industry, products, services, and overarching eCommerce goals.
To effectively sell online, business to business, you should have a website where businesses can learn about who you are and the products and services you can provide them which is the foundation of B2B eCommerce.
3 Main Benefits of B2B eCommerce
There are many notable benefits for window and door industry professionals to engage in B2B eCommerce, which include:
Improved efficiency
More accurate orders
Less waste across the supply chain
Revolutionizing Fenestration with the Help of eCommerce
The fenestration industry has continually evolved year over year improving the technology, materials, processes, and make-up of windows and doors for greater efficiency and security.
eCommerce is also revolutionizing and improving fenestration sales and productivity. While not all window and door suppliers and dealers have hopped on board the eCommerce way of selling, it is only a matter of time.
Whether you continue to use manual ordering systems remaining open to receive orders via phone, fax, or email, it would behoove all fenestration industry pros to begin transitioning to some form of eCommerce that makes sense for your business's goals.
When participating in eCommerce, high quality, realistic photos, visuals, engineering details, specs and more are key to online selling success.
Navigating Window and Door eCommerce
Selling in the window-and-door eCommerce world is not as intimidating or challenging as it may seem. It is another technological advancement that is helping professionals improve efficiency and reduce waste in their supply chain and production processes to better achieve their sales goals.
To learn more about what initiatives you can take to better leverage digital marketing strategies and showcase your windows and doors online, click the button below.