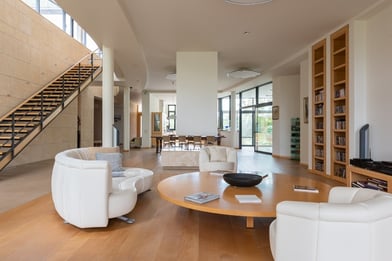 Whether you have renovated your garage into livable square footage or you have bumped out your kitchen for more food prepping space, home additions can drastically improve the value of your home. But, are your home additions maximizing their return on investment in your property in today's housing market?
Sometimes the money you have invested in your home renovations and additions might not get recouped when it comes time to sell your home or pass it down to the next generation.
3 Tips to Boost the Value of Your Home Addition
If you are investing in renovations and additions to your home, shouldn't you make the most of it and avoid losing money or value?
The following are a few tips to seamlessly boost the value of your home and home additions.
Tip #1: Improve the room's energy efficiency
There are several ways to improve your home addition's energy efficiency. This could be through adding solar panels to power the space or installing high performance installations.
Your utility company may also provide free energy audits that you can take advantage of and learn where and how you can maximize the energy efficiency of your home.
Tip #2: Choose materials that enhance the indoor air quality
Breathing clean air is as important indoors as it is outdoors. Carpets, and other fibrous materials can hide and trap allergens and contaminants.
Consider the flooring materials of your home addition. If you are adding on to your home in the near future, you may want to opt for laminate or hard-surface floor options.
Or, if a home addition from a few years ago has carpet flooring, you may want to contact a professional who can test the indoor air quality and provide recommendations on how to improve it.
Tip #3: Increase the room's natural illumination
Dark rooms are great for watching movies, but not as bedrooms, offices, bathrooms, entertaining spaces, etc. Unless your home addition is a movie room, you should strongly consider increasing its natural illumination to make it inviting and increase your property's appeal. You can achieve this by creating a more open space and knocking down light blocking walls and also by installing a skylight or window solutions to brighten up the room.
Installing high-performance windows has many benefits, including improving your home's energy performance, security, and ventilation. However, be sure that the installations you do choose are comprised of quality materials and manufactured by reputable suppliers.
For example, at Eastern Architectural Systems, we partner with several of the industry's leading providers, including Cardinal Glass Industries and PPG Industries. To learn more about EAS window and door solutions that can boost the value of your home and home addition, click the button below.