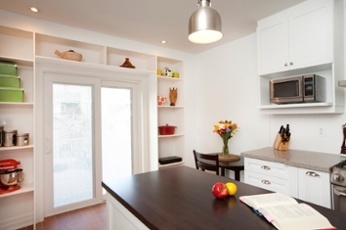 Homeowners are investing in their backyards, patios, and decks, creating beautiful outdoor living and entertaining spaces. It's very popular right now for outdoor entertaining spaces to seamlessly transition to inside the home, and sliding glass doors are rapidly becoming the champion of backyard doors.
Plus, they happen to be a classic, cost-effective way to bring in those picturesque, outdoor views.
If you're backyard patio or deck is used for regularly, especially with kids or playing host for friends, or family, then you'll want to consider both the beauty and benefits of vinyl sliding patio doors.
3 Huge Benefits of Sliding Patio Doors
There are plenty of sliding glass door benefits, and the following are just three big ones!
#1 Easy Access
One of the main reasons homeowners prefer sliding glass doors for their patio/deck is because they're hassle-free. They're easy to operate, allowing all members of the family to use them. However, if there are little ones present, it's best to keep them locked.
#2 Energy Efficient
Sliding patio doors are known for being tightly sealed, keeping outside air outside and vice versa while still allowing in plenty of light.
This increases your home's energy efficiency because you're using more natural illumination and less artificial lighting. Depending on additional glass packages, such as low-e coatings or tinting, you could further reduce your energy bills.
#3 Increases Space
Another big benefit of sliding glass doors is improving your feng shui! They slide open and close in their frame's track, so you won't have to worry about whether the doors will hit the couch or knock over the TV when family and friends are running in and out of the house.
Here are a couple popular vinyl sliding patio door options that EAS offers. Like all of our products, they carry many approvals and certifications, including:
HVHZ approved
Florida Product Approved
ENERGY STAR certified
Made in the USA Certified
Good Housekeeping Seal of Approval
Learn about your customizable window and door options by clicking our latest shopping guide below!