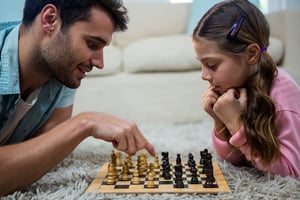 Working remotely, staying home in quarantine, and social distancing at the grocery store are a few efforts that many people are being challenged by during this time.
Staying home has its perks, such as staying in your pajamas all day and having time to work on those household tasks you've been putting off.
However, staying home practically twenty-four seven can have you experiencing cabin fever this spring.
Fortunately, it's springtime in Florida which means great weather, so there's a bit more you can do to keep yourself occupied during quarantine since you aren't snowed into your home.
How to Make the Most of Your Time at Home
Staying at home can quickly become dull, but below, we're giving you several ideas to help you make the most of your time at home.
Read a Book
Between the stress and travel time of your morning and evening commute to work and the daily hustle and bustle of regular life, reading a book easily gets pushed aside. Perhaps now is the perfect time to pick up your reading glasses and dive into that novel you've been trying to finish.
Spring Cleaning
It's Spring, and there's no better time than the present. If you haven't had a chance to clean your home of clutter and dust, other than COVID-19 cleaning and disinfecting, now may be the time to go through your closets, garage, attic and spare rooms.
At Home Spa Day
With all the accumulated stress during this time, don't forget about self-care and self-love. Have some fun and treat yourself to an at home spa day. Make a DIY facemask, grab your favorite nail polish, hop in a bubble bath, meditate, and relax.
Find New Hobbies and Activities
Try something new or pick up an old hobby to keep yourself occupied and stimulated during quarantine. Here are a few suggestions:
Paint or draw
DIY home decor
Garden
Cook something new
Learn a language
Play games & do puzzles
Journal your day
Learn a new instrument
Fuel Your Adventurous Side
You may not be able to go on vacation just yet, but there's nothing stopping you from planning your next dream adventure or taking a virtual tour around the world right now. Have some fun and get excited by planning your dream vacation.
Have a Night-in with Your Pals
You may not be able to go to cocktail hour or entertain a game night with your pals in your home, but technology has made connecting virtually possible.
Plan a virtual girls or guys night-in via Facetime, Skype, Zoom etc. You can play a game like charades or scattergories, go on a virtual treasure hunt for items around the house or just chat with your friends.
There are plenty of things to enjoy and keep occupied during this time, and the above ideas are just a few. Leave a comment below with how you are making the most of your time at home during quarantine.
We hope you and your family continue to stay safe and healthy during this time and will continue to provide resources to help you.