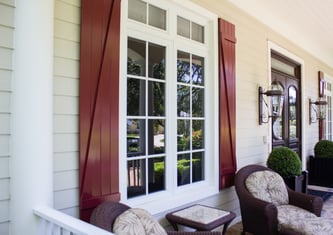 Hurricanes and severe weather are inevitable occurrences for Floridians. Homeowners throughout the state know the importance of protecting their entryways, windows and doors.
There are a few DIY last minute ways to prep your home for an impending hurricane, including plywood and nails, or if you are really in a pinch, duct taping the glass may be the only viable option for some.
However, proactive Florida homeowners are ditching the laborious boards and opting for hurricane shutters or upgrading their windows and doors to impact resistant window and door solutions.
There are several factors to consider, such as homeowner's discounts and the return on investment, ROI, when choosing between hurricane shutters and impact resistant windows and doors.
Understanding the Differences: Impact Windows or Hurricane Shutters!
Impact Resistant Windows & Doors
Pros
Cons

Protect against severe weather and strong winds
Don't require hurricane shutters to cover them during storms
Big selling point if you're putting your home on the market
Eligible for reduced homeowners insurance rates depending on your provider
Can see up to an 86% ROI

Typically a bit more expensive than most shutters
Outer layer of glass may break from debris (but other layers of window always stay intact to protect your home)
Hurricane Shutters
Pros
Cons

Protects against severe weather and strong winds
You can expect about 50% ROI
Typically less costly than most impact windows
May be eligible for homeowners insurance discounts depending on your provider

Have to manually cover your windows and doors (unless you purchased an electric or motorized variety)
Less ROI than installing impact windows and doors
Doesn't typically increase your home value
Which Will You Choose: Impact Windows or Hurricane Shutters?
Both choices, impact windows and doors and hurricane shutters, are a great investment for Florida homeowners.
Your lifestyle, design preferences and desired return on investment will help guide your decision between these two protections.
Click here to learn about a few types of hurricane shutters our parent company offers. Click the button below to learn how to shop for the right impact windows and doors that best suit your needs.