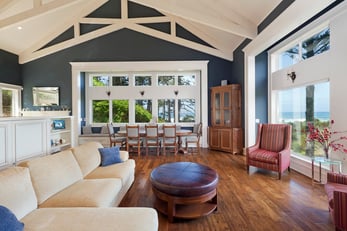 Creating a summer kitchen in your Florida home can be enjoyed throughout each season. These are the energy-efficient installations you should invest in to create the perfect summer kitchen at your home.
Replicating the flavors of a meal cooked on a grill can be challenging. And, having a dedicated space where you can entertain and cook while enjoying the sunshine is not only convenient but a desirable feature for Florida residents to have in their homes.
A few benefits of a summer kitchen
Whether it is enjoying the sunset with a few hors d'oeuvres and friends or grilling up some steaks for your family, creating a summer kitchen in your home can be highly advantageous for several reasons including:
Boosting your home's value
Optimizing your outdoor entertaining space
Enhancing your home's energy efficiency
Energy Efficient Installations For Your Summer Kitchen
One of the biggest perks to cooking in a summer kitchen is that instead of the air conditioning kicking on when the stove's hot or oven's on in your kitchen, your HVAC unit will actually get a break when you cook.
However, there are still several additional ways your summer kitchen can enhance your home's energy efficiency, including the appliances you use, installations to transition in and out, and the lighting to illuminate the night.
#1: Appliances
Any number of appliances can be utilized to complete your summer kitchen and depending on the ones you choose, you can impact your energy consumption, such as choosing gas or propane ovens and stovetops.
The small appliances, from toasters to coffee pots, can also be a bit deceiving sometimes with how much energy they actually use--especially when they aren't in use. So just remember to unplug them when you aren't using them.
#2: Transitional windows and doors
You likely walk in and out of the house and your summer kitchen through a door, but have you ever wondered how efficient that door is? Is it a swinging door or a slider? Does it let your air conditioning or heat escape easily?
Installing high-performance windows and doors can help improve your home's overall energy performance and allow you to seamlessly transition inside and out.
They may also better protect and secure your home from hurricane winds and flying debris. For example, the Bertha line of windows and doors at Eastern Architectural systems serve a multi-functional purpose and are aesthetically pleasing.
If you are looking for a window that allows you to easily pass food and dishes through, then you should consider our Bertha Horizontal Roller. Or, if you want to truly make your summer kitchen an extension of your home, you might consider our Bertha Sliding Glass Door 623 Series.
#3: Lighting
It is slightly challenging to entertain in the pitch black, but you are also not trying to create a spike in your electric bills. Lighting can truly transform any space, but if you are energy conscientious, consider swapping out any incandescent light bulbs for LED options that last longer and use about 75% less energy.
Also, maybe instead of having one light switch turn all the lights on, opt for their switches or buttons to be independent of each other where the counter has one switch and the island has another, for example.
Your home is your space to be creative, capture your personality, and function how you need it to. If a summer kitchen makes sense for you, there are plenty of ways to efficiently design one, from the lighting and appliances to the windows and doors.
You can learn more about energy-efficient installations for your home by clicking the button below to download The Homeowner's Guide to Energy Efficient Windows and Doors.