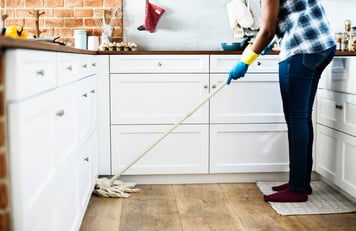 You've probably been listening to the news, staying up-to-date with the latest findings on COVID-19.
Wearing face masks, washing your hands frequently, practicing social distancing and staying at home are the main things you can do to help prevent spreading or infecting yourself and others.
But, how do you keep your home virus free?
The Centers for Disease Control (CDC) recommends that the best way to sanitize your home is through a frequent combination of cleaning and disinfecting--especially on high-touch surfaces, including:
Switches
Table tops
Phones
Remotes
Knobs
Counter tops
Hard surfaces
"It may be possible that a person can get COVID-19 by touching a surface or object that has the virus on it and then touching their own mouth, nose, or possibly their eyes. This is not thought to be the main way the virus spreads, but we are still learning more about this virus. CDC recommends people practice frequent "hand hygiene," which is either washing hands with soap or water or using an alcohol-based hand rub. CDC also recommends routine cleaning of frequently touched surfaces." - CDC
Cleaning refers to removing dirt, germs or impurities on surfaces while disinfecting refers to killing germs on surfaces.
How to best clean & disinfect, according to the CDC
The following are suggestions on how to best clean and disinfect at home, according to this CDC web page:
1. Protect your skin with gloves
Wear gloves and dispose of them right after you finish cleaning and disinfecting. Or, if they're reusable, be sure they are solely dedicated for cleaning and disinfecting.
2. Use EPA-registered disinfectants
If a surface is dirty, it should be cleaned using soap and water prior to disinfecting; most EPA-registered household disinfects should be effective.
3. 70% alcohol wipes for electronics
Consider using 70% alcohol wipes or sprays for electronics and dry them thoroughly.
4. Use warm water for laundry
When doing laundry, try to use the warmest setting possible.
You Can't be Too Cautious
There isn't a set standard for how often you clean and disinfect. Ideally once per day--perhaps twice if you are leaving your home regularly. However, if you or your family members haven't left your home for a while, then you may choose to skip the disinfecting and cleaning.
We hope that these CDC tips help you clean and disinfect your home properly and that you and your family stay safe and healthy. If you'd like to learn more about cleaning and disinfecting from the CDC, click here. Or, you can click the button below and subscribe to our blog to get the latest COVID-19 cleaning and sanitizing tips.