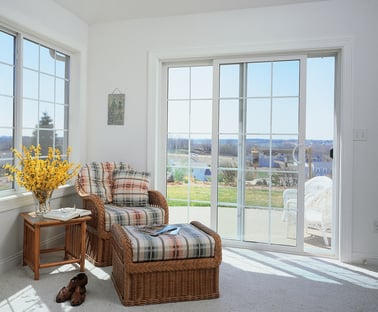 A home's installations should not only complement the architectural structure of a home but also function the way the homeowner needs them to. With so many design styles available, choosing the best patio door can quickly become an overwhelming pursuit.
However, there are two main types that homeowners choose, hinged or sliding patio doors.
Both door styles provide homeowners with stunning entry and exit points to and from your patio from your home. But hinged and sliding patio doors have a few different features that may be better suited for the space or the homeowner's functional needs, such as:
Convenient entryways
Complementary to the space
Positively transforming the function and aesthetics of the room
Hinged vs. Sliding Patio Doors
There are benefits to both hinged and sliding patio doors. The following will help guide your choice on which door style is most appropriate for the space.
Hinged Patio Doors
Hinged doors provide homeowners with a more traditional style for their space. They swing open and closed because they are hinged to the frame or wall on the side.
In contrast to a sliding glass door, you will want to be sure that you do not have furniture in the way of the door's opening and closing path. The homeowner may even benefit from a few extra perks such as choosing a French door.
Sliding Patio Doors
Sliding glass doors are more contemporary in design and are made up of at least two glass panels that operate by sliding open and closed on a track. If you are trying to achieve more versatility in the space, you can choose to have both panels operable too.
Sliding patio doors are ideal for those trying to save space and not be concerned with furniture getting in the way of the door's operating parts. You can also install a sliding screen allowing the homeowner to leave the door open, but keep the bugs or debris out during the cooler months.
Which Patio Door Should You Install?
Which patio door is the best option for the space? It depends on a number of factors; however, should you choose a hinged patio door it may be more ideal to install a French door for improved return on investment along with many other benefits.
You may also come to the conclusion that a French style sliding patio door is the perfect installation for the space. At Eastern Architectural Systems, we provide homeowners with added peace of mind and comprehensive solutions designed to improve the energy efficiency, security, and aesthetics of a space.
Click the button below to download our product brochure and learn more about our window and door installations.