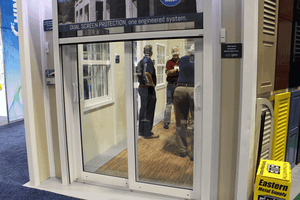 Technology advances has been enhancing and changing the way we explore, learn, work, and live for years now.
You can name practically any aspect of your life, and there's likely a technological component that makes it easier and more efficient!
Smart home automation is in its infancy, but is rapidly growing to make every day living easier, including automating hurricane shutters.
Automated hurricane shutters are a major stress saver to Florida homeowners, especially the snowbirds and leisurely travelers during hurricane season.
The question for any Florida homeowner is whether or not they should spend time boarding up their homes before they travel during hurricane season.
What if there was an easier way to protect your home and your belongings from the click of a button on your phone?
While impact glass is a popular, proactive choice to ensure protection during hurricane season, your customers may not be looking to upgrade their windows. They may just want additional protection or have just grown tired of pulling out the plywood.
If that sounds like your customer, then roll shutters might be right for them; not to mention, there's a smart home app now!
Our parent company, Eastern Metal Supply, manufactures roll shutters that are compatible with the SIMU Somfy myLink and the Dooya Smart Hub. Both of these are compatible with Alexa and Google Home. Plus, both offer an app for your smartphone -- allowing you to open and close your shutters with just the touch of a button.
Click the button below to see which EMS hurricane roll shutters meet your lifestyle needs or ask your sales representative about how you can control your roll shutters from your mobile device!