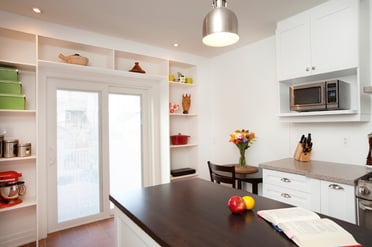 Like most parts of your home, your installations, such as your windows and doors, will often need to be replaced.
Whether it is because they no longer perform well, they don't function how you need them to, or because they clash with your home's aesthetics, there are several benefits of sliding patio door replacement.
Depending on the quality of the sliding patio door you are replacing, you can enjoy several perks, including improved aesthetics, security, ventilation, and more.
5 Sliding Patio Door Replacement Benefits
The following are 5 benefits of replacing your sliding patio door with a high-performance installation, like the ones manufactured by Eastern Architectural Systems.
Benefit #1: Increased Property Value
Sliding patio door replacement is a great way to increase your property value by about 70% which is especially great if you ware wanting to sell, or even rent, your home in the future.
Benefit #2: Improved Home Protection
Whether at home or out of town, replacing your sliding patio doors with high-performance solutions can improve your home security. For example, Eastern Architectural Systems Sliding Glass Door 650 Series offers you added security with our keyed Intuition handle set option.
Benefit #3: Energy Savings
Energy savings is another major benefit of sliding patio door replacement and often require less maintenance too. You can add a Low-E glass coating or tint to further improve your home's energy performance, natural illumination, and overall comfort inside.
These high-performance installations help reduce your HVAC maintenance and energy costs because they better insulate your home so your HVAC system won't have to work as hard to cool or heat it.
Benefit #4: Reduced Noise Pollution
Another benefit of better insulation from these high-performance sliding patio door replacements is reduced noise pollution. That means you can enjoy a quieter and more peaceful home environment and not have to hear the lawn mower, airplanes, or loud traffic outside.
Benefit #5: More Connected to Nature
Connecting your home's inside to the outside has been a popular trend for several years now, and it is not showing signs of slowing down. Sliding patio door replacements can help you better achieve this transition in your home—especially if the weather is cool out.
Perhaps your current sliding glass door doesn't have a screen on it to keep bugs and critters out while letting the cool crisp air in? If this is the case, there are several sliding patio door styles that are equipped with a screen that allows you to keep critters out and cool outdoor air in.
Which Sliding Patio Door Style Will You Choose?
Your home should function the way you need it to. And, replacing your sliding patio doors can help. Installing high-performance installations can improve your home's energy performance, protection, comfort, improve its value, and more.
If you are looking to replace your sliding patio doors, there are many benefits you can enjoy. The only question left is which style you will choose.
Here you can browse Eastern Architectural Systems' high-performance sliding patio door replacements. You can also click the button below to use our dealer locator tool and find your nearest EAS window and door dealer who can help you choose the best installation for your home and lifestyle needs.