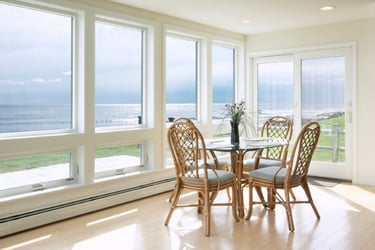 From burglaries to natural disasters, there are several reasons why your home's window strength is important. Windows can be a vulnerable part of your home's envelope especially if they are not up to code or are very old.
So, how can you reinforce your home's window strength to better protect your family and belongings?
How to Reinforce Your Home's Window Strength
By reinforcing your home's window strength, you can often help reduce the chances of your home getting broken into either by an unwanted intruder or from hurricane-force wind debris.
#1: Determine if they are functioning properly
When you own a home, you will likely have many maintenance boxes to check off each year or every few years. Inspecting your windows to ensure they are functioning correctly should be one of those items on the list. If there is damage to the window frame or sashes, or if they have just been worn down over time, then they are probably not working correctly to protect your home and are likely increasing your energy bills too.
#2: Are the areas around your window well maintained?
The areas around your windows can also impact the integrity of them. For example, overgrown shrubs or trees around them make great hiding spots for any potential lurking intruders or wind-born branch missiles if a Cat 5 hurricane makes landfall.
#3: Upgrade your window locks
While you may have impact glass windows helping to prevent anything from breaking the glass, locks are still important for reinforcing your home's window strength. They may be impenetrable, but when it comes to break-ins, a burglar can open the window to gain access. Consider upgrading your window locks to ensure they are in good working order and are able to better protect your home.
#4: Connect your windows to your home security system
Windows are one of the most common entry points for burglars. If you have a home security system, connecting your windows to it can add a layer of security to your home enhancing your home's window strength.
#5: Upgrade your windows
Windows often have a substantial impact on the quality of your home's energy efficiency and security. One of the best ways to improve both the security and energy performance of your home is to upgrade your windows to high-performance double or triple-pane glass solutions. Investing in better quality glass can also help reduce the penetration of UV rays, reduce your energy bills, elongate your HVAC's life span, and help protect against burglars and wind-borne debris.
How Will You Enhance Your Home's Window Strength?
You can enhance your home's window strength in several ways, which may mean replacing them with better, high-performance installations. Learn about more window care tips by clicking the button below to download our tip sheet.
At Eastern Architectural Systems (EAS), we manufacture a complete line of custom-made, aluminum and vinyl, impact and insulated impact windows and doors that are each tested for strength and integrity, and built with style in mind. We partner with industry leaders, such as Cardinal Glass, to provide you with reliable, quality installations.
To find a local EAS window and door dealer who can help you determine which installation makes the best sense for your home and lifestyle near you, use our dealer locator tool.