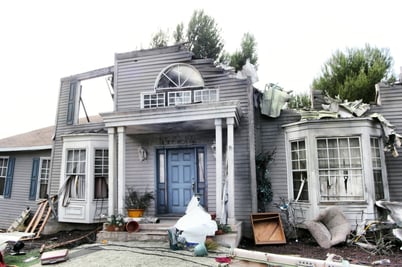 Hurricanes can pack a mean and devastating punch to your home or condo and your surroundings.
By now, you've probably seen the extreme aftermath of all the recent hurricanes.
These natural and powerful monstrosities have the ability to uproot trees and level buildings, such as your home, office buildings, stores etc.
How Hurricanes Infiltrate Your Space
Sometimes it can be hard to imagine how water and wind alone can create so much damage, but when the sustained winds pick up anywhere from 74 to 157 mph or higher, it can result in damage to parts of your home, including:
Roofing and shingles

Some exterior walls

Windows

and doors
The forceful winds of the hurricane can infiltrate and uproot or level your home if your window, door or a weak spot in your home's infrastructure is broken due to flying debris.
Regular windows are subject to breaking upon impact which can lead to water intrusion that damages your home. Plus, once these outdated installations are cracked or broken, your home is exposed to additional messes and hazards, such as broken glass inside your home or a hole in place of the window, which puts your safety at risk.
However, with impact windows and doors installed in your home, flying debris doesn't threaten your home's interior because only the exterior layer of sacrificial glass may break, and the inner layers of glass will remain, protecting your home's interior from being exposed to outside factors.
Prevent Hurricane Damage with Impact Glass
To help prevent homes from enduring extensive damage resulting from natural disasters, such as hurricanes, building code officials have been updating their regulations to ensure homes are designed with sturdier installations creating a reinforced structure.
Depending on what your current windows and doors are made with, you may want to consider updating them with impact glass. This way your home won't be exposed to harsh wind infiltration that can uproot or even level your home.
Resources: Hurricane Disaster Relief & How You Can Help