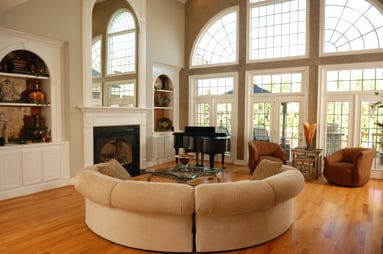 Installing new windows in your home can lead to improved energy efficiency, curb appeal, security, comfort, and more. However, sometimes all of that can be dependent on whether you install standard or custom windows.
The key difference between standard and custom windows is in their names: standard and custom. Standard windows are often manufactured in bulk while customized windows are custom-made in several ways.
The following are a few key differences between standard and custom windows, including their sizing, quality, and aesthetics.
Sizing: Standard Vs. Custom Windows
Custom windows are manufactured to fit the exact measurement of their spaces whereas standard windows are generally manufactured to an approximate fit which can sometimes result in leaky and drafty windows or premature wear and tear.
It is often in many homeowners' best interest to install custom windows the first time around to avoid any of the aforementioned size complications that standard windows pose to your home.
You may find it worthwhile to have a professional come out and measure the window space to ensure the installation will properly fit the space.
Quality: Standard Vs. Custom Windows
In terms of quality, both standard and custom windows are fairly similar in how they are manufactured. However, having a custom-made window generally leads to the manufacturer having more control over the process often resulting in a higher quality of each installation.
In contrast, standard windows are mass-produced which does not leave much room for fixing problems throughout the manufacturing process often resulting in a lower-quality installation.
Aesthetics: Standard Vs. Custom Windows
Because standard windows are produced in bulk, there are a limited number of colors, styles, finishes, and hardware selections and combinations that you can choose from. If you are wanting a unique color, such as peacock blue or charcoal haze for example, then custom windows may be a better option so that you can create the perfect aesthetic for your home.
Are Custom Windows Right for Your Home?
Are standard or custom windows the better option for your home? There are pros and cons to both windows from price point to functionality. If you are looking for a unique look or want to avoid the chances of standard installations not properly fitting the space, then custom windows may be the better solution for your home.
At Eastern Architectural Systems, we manufacture a complete line of high-performance, custom-made windows, and doors that are tested for strength and integrity, and built with style in mind. Our installations are designed to exceed the requirements and challenges of today's discerning buyers.
Click the button below to download our window and door shopping guide and learn more about what you should consider when shopping for your custom installations.