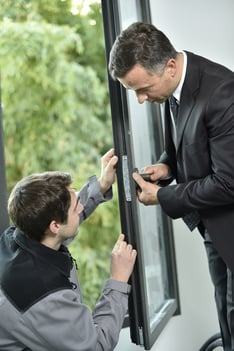 An array of complications can occur if a window is not properly replaced. For example, if the window is not sized correctly for the space, then it may sag or have gaps. Proper window installation is key to having a beautiful, long-lasting installation that looks and functions the way you need it to.
Why Proper Window Installation is Important
Aside from their aesthetic properties, windows play an important role in your home's envelope helping to ventilate and protect it. Proper window installation is important in order for it to properly function and be structurally stable, level, and sealed.
Whether you hire a professional or are DIY'ing your window installation, be sure that corners are not cut to avoid premature window failure, water leakage, or wall damage. And, if you are installing energy-efficient installations, proper window installation is an essential part of their functionality.
5 Things To Consider for Proper Window Installation
Proper window installation is important for your home to look and function well. The following are five things you should consider when installing new windows.
1. Your Current Windows
It can be valuable to evaluate your current windows prior to installing your replacements. This process, which your contractor will likely do, can help you identify any current, specific issues. You can then adjust for any factors that are causing problems and ensure your replacements will function properly.
2. The Window Size & Shape
Checking your current window size and shape is very important to ensure you will have the right size replacement window. And, it is important to double-check it one more time prior to installation—the window should fit snugly in the wall opening.
3. The Positioning of the Replacement Window
You should consider the positioning of the replacement window to ensure it can be properly installed. This helps create a secure fit and has good thermal performance. Installing new windows, especially high-performance solutions, can create some window condensation as it creates a tighter seal in your home's envelope. However, you shouldn't have sopping wet windows or windows that are not properly sealed and allow water into your home. That is another reason why the positioning of the replacement window is important for proper installation.
4. Local Building Code Requirements
Each state and county has varying building code requirements which can often help guide you in choosing the best window solutions for your area. Before installing replacement windows, or even purchasing new ones, you should find out whether they meet your local building code requirements. Oftentimes, if you are using professional services, they will be able to ensure you have the appropriate installations for your home and area.
5. Quality Assurance
The last thing you want is to have your windows installed only to find that when it rains it pours—into your home from your newly installed windows. Be sure that the installer or you, if you are doing it yourself, perform a quality assurance check once it has been installed and the windows are cleaned up. This will allow you to know that the installations do not have any leaks or drafts, have strong caulking and that they are stable for years to come.
Make Sure Your Window Installation Is Properly Done
As a manufacturer of high-performance window and door solutions, we understand that a window can only perform well if it has been properly installed. There are several considerations when shopping for the best window solutions for your spaces and when installing them.
If you are looking for the best high-performance installations for your home, click the button below to use our dealer locator tool and find an Eastern Architectural Systems window and door dealer near you.