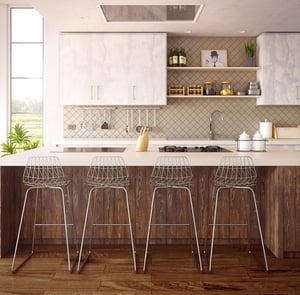 Windows are a part of your home's envelope which also includes its walls, doors, roof, and the like. They help insulate your home, regulate its interior temperature and some may even help keep your roof from blowing off in the event of a hurricane. However, those benefits and more are dependent on the quality of the window you choose and are major perks of installing energy-efficient impact windows.
Whether it is a new build or a renovation, installing new windows and doors is an investment in your home. Be sure you invest in solutions that go beyond what meets the eye. Their look should complement your home's design, and their function should complement your lifestyle.
3 Benefits of Installing New or Replacement Windows
Aesthetics and functionality aside, there are several benefits your impact windows can provide, such as more comfort and reduced energy bills. Here are three benefits of installing new or replacement windows.
Benefit #1: Reduced Energy Bills
Whether it is winter or summer, your thermostat can get a bit wonky. Impact glass replacement windows are more insulated creating a tighter seal to help regulate your home's temperature keeping you consistently comfortable and your energy bills low all year round.
Benefit #2: Better Home Security
Impact glass also has a thicker barrier which means less outside noise and enhanced home security. These replacement windows are designed to withstand wind-borne debris and intruders' attempts to break the glass.
Benefit #3: Hurricane Protection
The third benefit of impact glass replacement windows is hurricane protection. As we mentioned in benefit number two, these installations are impenetrable to hurricane-force winds that swirl around wind-borne debris. This is especially beneficial for homes in a high-velocity hurricane zone (HVHZ). The outer layer of glass may crack on impact, but the inner layer will remain intact to keep the window standing and prevent water and debris intrusion.
Finding the Best New or Replacement Windows for Your Home
Whether you're renovating to sell or just for a better ambiance at home, installing high-performance windows is one easy home improvement that will save you money, increase your comfort, and up your home's resale value.
Click the button below to find the nearest Eastern Architectural Systems window and door dealer to you and find the best windows for your home.