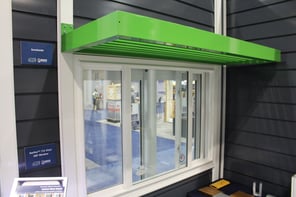 There are awards for nearly everything--including window and door showrooms!
We've talked about how to determine the credibility of a window and door dealer, and even who won the best window and door display of 2019.
Now, we're sharing what matters most when it comes to your window and door showroom in 2020.
4 Must Haves for Your Window and Door Showroom
Update and ramp up the following four areas of your window and door showroom to impress!
1. Depth, Design & Mood
Just like a realtor stages a home for sale, your showroom should be staged so potential customers buyers can envision your windows and doors in their home. You can easily do this with neutral tones, furniture, and lighting to set the mood and enhance the ambiance. Be sure to utilize all of your showroom and present a wide array of your windows and doors.
2. Technology
You don't need to overdo it with technology, but adding relevant aspects of technology, such as advanced locks and automated features can go a long way to enhance your shoppers' browsing experience.
3. Education
Whether it's provided on a nearby tablet, a brochure at the front or informative snippets on the wall, ensuring educational materials about your windows and doors are readily available is important. You can include factual snippets of their material make-up, customizable options, security enhancements, and overall product benefits.
4. Customer Service
Customer service is a must in any company or organization. Having employees that are knowledgeable and available is vital, and it can even make or break a sale.
Have You Seen Our Showroom?
EAS manufactures high performance aluminum and vinyl windows and doors that proudly offer the following features:
Good Housekeeping Seal of Approval
Made in USA certified
ENERGY STAR certified
Florida Product Approved
You can learn more about EAS products a few different ways, including:
Click here to find and visit one of our dealers closest to you
Visit our Ft. Myers facility and new showroom for a behind the scenes look at what goes into making a top quality window
Click the button below to download our full product brochure