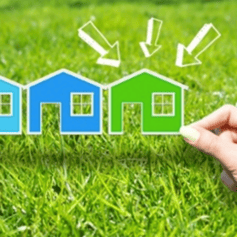 The start of a new year brings many new aspirations--the most common relating to finance and self image.
However, others may focus on knocking out their home improvement wish list.
Whether you're renovating to sell or just for a better ambiance at home, there's one easy home improvement that will save you money, increase your comfort and up your home's resale value--upgrading to impact glass windows!
6 Benefits of Installing Impact Glass Windows!
By installing impact windows, you'll enjoy several benefits as noted above, and plenty more benefits, including the following:
#1 Hurricane Protection
Impact windows are designed to withstand the impact of severe wind borne debris and hurricane strength winds.
Impact glass is so powerful that it eliminates the stress of boarding up for hurricanes or even the need for hurricane shutters.
The outer layer of glass may crack on impact, but the inner layer will remain in tact to keep the window standing and prevent water and debris intrusion.
#2 Enhanced Security
If hurricane winds can't even break through your windows, neither will an intruder. Another big benefit of impact windows is peace of mind from enhanced security.
#3 Reduction of Noise Pollution
With a thick barrier, impact glass windows are also known to reduce noise pollution to keep your home quieter.
#4 Reduced Energy Bills
Heating costs aren't too much of a concern in Florida, but the summer heat can cause cooling costs to spike. As impact windows are more insulated than standard windows, they help to reduce energy bills and keep your home at a more consistent temperature all year round.
#5 Eligible for Insurance Discounts
Depending on your homeowner's insurance, you may be eligible for homeowner's discounts if you install impact glass windows.
This is largely in part because they help better insulate your home to reduce any unwanted and accidental intrusions, resulting from break-ins and severe storms.
#6 Increased Resale Value
Another benefit of installing impact windows is that your home's resale value increases. This is especially beneficial if you're renovating to sell.
Which Impact Windows Would You Choose?
There are several benefits to installing impact glass windows, and there are even more ways to customize them to meet your design and lifestyle needs.
Click the button below to download Your Window & Door Shopping Guide and see all the ways you can create the perfect impact windows for your home!