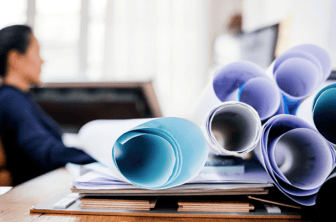 Building a home isn't as easy as stacking legos. Professionals have to carefully research and select the appropriate materials and installations that satisfy several Florida regulations, including Florida Building and Energy Codes as well as varying other local requirements.
There is a minimum of two ways to comply with Florida Energy Code, prescriptive and performance.
Prescriptive
This requires YOU, the builder, to comply with a list of energy efficiency requirements.
Performance
This requires the BUILDING, as a whole, to comply via an energy simulation analysis tool when compared to its performance by a standard reference design.
Click here to access a list of Building Commission approved Energy Code compliance software.
How Florida Energy Efficiency Code Applies to Building Construction
With a vast amount of regulatory compliances to keep up with, it can be challenging to understand how each set of regulatory codes work together to build stronger, safer, and more energy efficient buildings.
The Florida Building Commission
The Florida Building Commission is a body of twenty-six members appointed by the state governor who meet every six weeks and oversee the code change process, among other responsibilities as outlined below.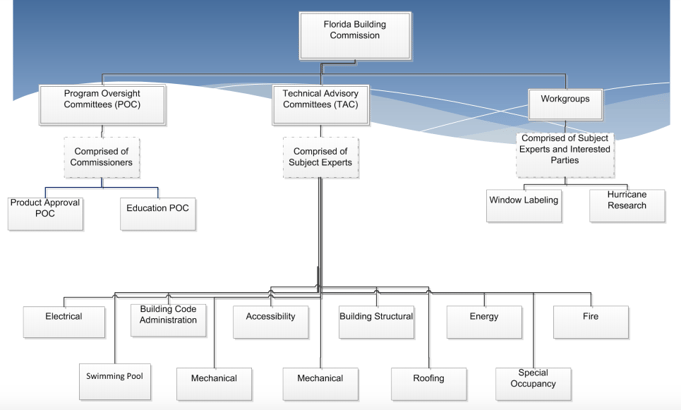 As you can see in the above diagram, Florida Energy Code is a subset of the Florida Building Code, which is updated triennially to include:
Adoption of the current International Energy Conservation Code (IECC) as the foundation

Modification by the commission to maintain the efficiencies of the Florida Energy Efficiency Code for Building Construction
Process Overview of Code Changes
Updating processes and procedures in any organization is necessary to stay current, efficient and ensure you're utilizing the best technology and processes available.
The same is true for building and energy codes which have a glitch, annual, and triennial change process.
Glitch
This allows for changes to be made as needed based on specific criteria using Chapter 120 Procedure 553.73 (8) FS
Annual
This allows for changes to be made annually to accommodate specific state needs and address issues related to the public safety and welfare using Chapter 120 Procedure 553.73 (9)(a) FS
Triennial
Every three years, the commission will use the most current International Building Codes to form the foundation of the Florida Building Code, which follows the below process: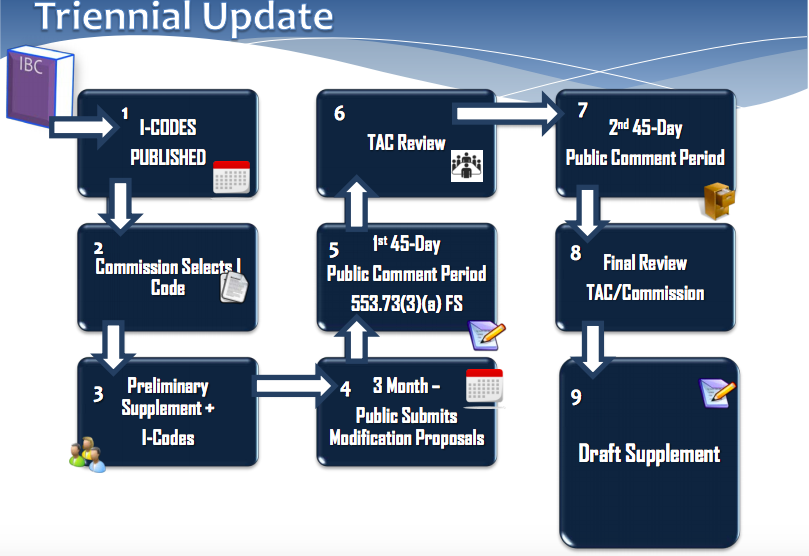 Triennial Code Updating Formula
International Building Code + Florida Specific Requirements* + Glitch = Florida Building Code
*Florida Specific Requirements, include:
FBC Florida specific requirements

HVHZ(Miami -Dade and Broward counties) requirements

Special Occupancy— state rules and statutes

Correlation requirements with the Florida Fire Prevention Code

Florida Energy Efficiencies
Additional Resources
Find Florida Product Approved Installations
All EAS windows and doors are Florida Product Approved. Plus, EAS carries the Bertha line of products that satisfies all your HVHZ building needs. Click the button below to learn more about EAS windows and doors and how they help you meet Florida Building and Energy Code requirements.