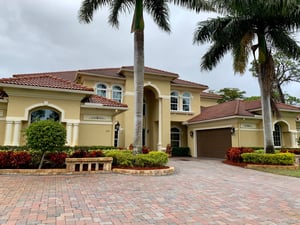 Increasing your home's value isn't as easy as seen on TV or Pinterest posts; it can be an exciting and overwhelming undertaking. There are several factors and a variety of materials and products to select that give you the maximum return on your investment.
There is a fine line between upgrading your installations for increased resale value and investing in upgrades that leave you with little to no lasting ROI.
While you're unable to control your home's location and current buying market, which both directly affect the value of your home, you are able to pay attention to your home's value and its surrounding homes to help guide your renovating decisions.
"58% Of homeowners will 'definitely' or 'probably' undergo a home renovation or improvement project over the next 12 months. Of those who plan to do so, 65% plan to spend at least $10,000, with 20% budgeting between $10,000-40,000 and 15% spending more than that" - 2018 Homeowner Protection Survey by Chubb
Making improvements to increase your home's value takes a holistic approach, from keeping up with repairs and improving curb appeal to installing smart technology that enhances efficiency and protection.
Use These Pro Tips to Increase Your Home Value
Increasing the value of your home is best tackled project by project, but as with any project, it begins with a holistic strategy, including prioritization, financial, aesthetic, structural, time, and market demand considerations. Use the following professional tips to help guide your renovation and home value increase strategy.
1. Bathroom and kitchens are king of your castle
The most minor bathroom and kitchen updates have proven time and time again to have the greatest return on investment.
"The millennial generation is becoming increasingly important in this sector of the economy. Not only did millennial homeowners complete the most home projects per household in the last 12 months, but five in every six homeowners plan to spend as much or more on home improvements in the coming 12 months. What's more, millennial homeowners are now twice as likely as baby boomers to tackle kitchen and bathroom remodels!" - HomeAdvisor's annual True Cost report
Tips to get started in your kitchen:
Replace older appliances with new ones that match

Resurface or replace outdated cabinets

Update the flooring with tile or vinyl

Add a backsplash

Replace fluorescent lighting with flexible track lighting
"A minor kitchen remodel recoups 81% of its cost in added value on average, versus 53% for an upscale kitchen remodel with stone countertops, custom cabinets and commercial-grade appliances" - Remodeling magazine's "2018 Cost vs. Value Report."
Tips to get started in your bathroom:
Update the vanity, toilet and lighting

Update the flooring with tile or vinyl

Retile the shower wall
"Midrange bathroom remodel — new flooring and a few updated fixtures — delivers a 70% return on investment, while an upscale bathroom remodel — heated flooring, custom cabinets and designer fixtures — sees 56% on average." - Remodeling magazine's "2018 Cost vs. Value Report."
2. Increase your curb appeal with simple landscaping
Minor landscaping improvements are among the easiest and most economical ways to increase your home's value within the first year.
"Some of the most impactful ROI can be earned outside of the home, and shares three easy, low-cost steps homeowners can take to make it happen." - Cassy Aoyagi, president of FormLA Landscaping
Tips to start improving your landscaping:
Plant native trees and young shrubs strategically along your property, as this helps lower energy costs by reducing the solar heat gain entering your home and can even help raise the value of neighboring homes

Replace seasonal plants or flowers with long lasting ones that weather all seasons

Avoid installing synthetic turf and gravel-scaping as they increase energy costs by attracting and reflecting more heat from the sun.
3. Evaluate your floor plan for maximum square footage
Does your perceived value increase or decrease with more rooms or bathrooms? Your answers probably align with other homeowners and buyers who believe more rooms increase their perceived and estimated value of a home.
Tips to maximize your square footage:
Add a wall, insulate a patio or convert an attic to create more rooms

Tear down a wall to create the highly sought after open concept home design
4. Make your home smarter and safer
With technology rapidly advancing, smart homes are becoming the norm for many homes. Investing in safety-enhancing gadgets top the list of "smart" technologies that buyers want in their new homes, according to a 2018 survey by Coldwell Banker.
Tips to make your home safe and smart:
Invest in a smart thermostat, such as the Google Nest

Add security cameras (doorbell cameras are a popular choice)

Add smart locks and lighting
5. Redesign your home to foster energy efficiency
Save the planet and reduce energy bills one installation at a time. Energy conservation not only benefits the planet, but also has a significant impact on energy bills and the value of a home--especially in especially hot or cold climates.
Tips to foster energy efficiency:
Invest in a smart thermostat, such as the Google Nest

Consider impact windows

Enhance your attic insulation

Choose LED lighting and efficient appliances

Evaluate your home's energy efficiency by scheduling an assessment with a certified energy auditor or your utility company
A Few Tips to Keep in Mind
Tackle one room at a time

Small improvements pay off

Maintain your home's cleanliness now for profits later

Curb appeal counts

Bathroom and kitchen upgrades are king
How Will You Increase Your Home Value?
There is a sea of information and inspiration for home value upgrades. It's important to know which updates actually provide you value and maximum return on investment. You can use this "Cost versus Value" report by Remodeling Magazine to help you analyze what you'll spend compared to what you're likely to recoup when you sell.
Increasing your home's value requires a holistic approach from energy efficiency and smart technology to additional square footage and bathroom/kitchen upgrades.
To learn more about how windows and doors can improve a home's energy efficiency and increase it's value, click the button below.