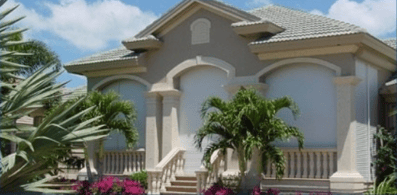 Aside from the daily dose of year-round sunshine, Floridians can expect strong winds and heavy rains during hurricane season each year. Hurricanes can cause severe damage to homes, which is why it's so important to ensure your home is well protected from potential water, wind and airborne debris damage.
If they don't have shutters installed before an impending hurricane, homeowners sometimes get creative when it comes to boarding up their windows and doors, from duct tape to plywood. But, what if you're a snowbird and out of town for the season or don't have the manpower to bolt clunky wood boards to your home?
The age of automation is here, and it's benefiting many Florida homeowners. Automated hurricane shutters are making hurricane season stress-free for many.
Our parent company, Eastern Metal Supply, manufactures roll shutters that are compatible with the SIMU Somfy myLink and the Dooya Smart Hub which allow your shutters to open and close without being at your home. Both of these devices are compatible with Alexa and Google Home. Plus, both offer an app for your smartphone -- allowing you to open and close your shutters with just the touch of a button or a quick voice command.
Impact Glass, Roll Down Hurricane Shutters or Both?
While impact glass windows and doors are a great way to ensure wind borne debris won't break through the glass, the exterior glass layer is subject to cracking under pressure.
That's why many homeowners like the double layers of protection that hurricane shutters and impact windows and doors provide together.
Installing impact glass windows and doors can lower homeowner's insurance rates, provide added insulation for reduced energy bills and gives you peace of mind during a severe storm or hurricane.
By supplementing your impact glass windows and doors with hurricane shutters, you're adding value and security to your Florida home. Click the button below to see which EMS hurricane roll shutters meet your lifestyle needs or ask your hurricane protection dealer today about how you can control your roll shutters from your mobile device!