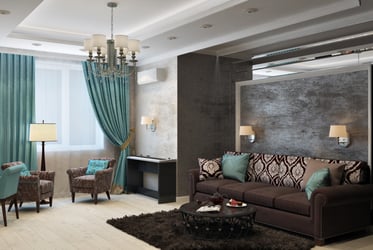 Budget savvy families understand the importance of installing the best performing products on the market, including smart thermostats and impact glass windows and doors that keep their energy bills low.
Another stylish way to regulate your energy bills while adding personality to any room is through window treatments. They're often the most overlooked part of a room but are an easy way to add function and decor.
3 Modern Window Treatments to Consider!
Being budget savvy when updating your window treatments with a more modern look begins with a plan. You'll want to know which modern style compliments your home and accommodates your budget.
1. Style
Your home is an extension of you and your personal style. There are a variety of window treatments that are designed to meet your unique needs and lifestyle.
The first step when updating your windows with modern treatments is to pick the style. Some examples include:
Curtains
Blinds
Valance
Shutters
Shades
2. Transparency
The next step is to ask yourself how much natural illumination you want to allow into a room. You may want one room dimmer and others naturally bright.
For ample natural illumination, consider sheerer options and valances. Or, if you prefer it dimmer, consider thick and solid curtains and shades. For those of you who like having a happy medium and the option to pick and choose based on the day and your mood, consider any combination of blinds and curtains or shades and valances.
3. Colors
Bring your window treatments to life with colors and patterns. Have fun with them by choosing contrasting, bold colors and patterns or keep it coordinated, calm and uniform with subtle, matching colors and patterns.
You have a unique style with big needs! EAS has created a shopping guide that helps you shop for the best window style that meets your lifestyle and budget needs.
Click the button below to download our most recent guide to customizing the perfect window for your home and lifestyle.