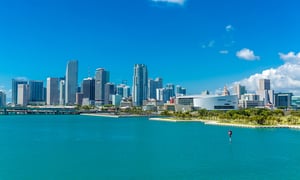 Living along the Florida coastline is appealing to many people and there are several benefits, including calming and relaxing atmosphere, and sunshine nearly all year round.
There is, however, a season of the year when homeowners along the coastline prepare their homes for mother nature's hurricane force winds--especially if the home resides in a high velocity hurricane zone (HVHZ.)
The ICC (International Code Council) defines the following:
Hurricane-Prone Regions: Areas vulnerable to hurricanes defined as:
The U.S. Atlantic Ocean and Gulf of Mexico coasts where the basic wind speed in greater than 90 mph (40 m/s) and Hawaii, Puerto Rico, Guam, Virgin Islands, and American Samoa.
Wind-Borne Debris Region: Portions of hurricane-prone regions that are within 1 mile (1.61 km) of the coastal mean high water line where the basic wind speed is 110 mph (48 m/s) or greater, or portions of hurricane-prone regions where the basic wind speed is 120 mph (53 m/s or greater; or Hawaii.)
In Florida, the only HVHZ areas are Miami Dade & Broward Counties. When it comes to building, there is a special section of Florida Building Code dedicated to HVHZ.
The "FL #" is the most common way you'll see the Florida Product Approval Number referenced. It was created by the state for all construction trades as a measurement to determine if the product meets state requirements, including high velocity hurricane zones (HVHZ).
HVHZ approved products undergo a couple of wind speed, missile tests which you can learn more about how that helps give homeowners peace of mind by clicking here.
To learn more about and see a complete list of EAS HVHZ approved window and door installations, you can click the button below to download our product brochure.