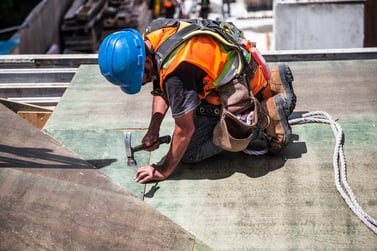 As technology advances, so do the materials contractors are using to build.
We're shifting to a greener, more sustainable environment, which is evident in nearly every aspect of our culture including home building materials.
From consumers to manufacturers, we all want to do what's right and environmentally safe for the planet.
LEED building is one program that adopts, evaluates and guides building construction based on sustainable and green practices.
Whether you're building a LEED home or simply trying to be a bit more conscientious about the materials you're using, you can swap out some not-so-friendly building materials for some of these environmentally friendly ones.
4 Green Home Solutions to Build With
#1 Recycled Cork
You don't have to be a wine lover to know that cork is a widely used and versatile material. Your recycled wine corks and cork boards can be repurposed into all sorts of products including cork panels and flooring.
#2 Newspaperwood
Newspaper can be repurposed not only into new paper but also into wood by compressing and glueing into thin layers.
#3 Glass
You can recycle your glass windows and use them to create beautiful recycled glass tile backsplashes for your kitchen, bathroom or even as shower wall tiles and kitchen countertops.
#4 Cotton
Cotton is a widely used material, from cotton swabs to cotton insulation for your home build. Cotton insulation can be made from recycled cotton based materials, such as denim. Plus, it's healthier for the future homeowners and the environment because it doesn't contain formaldehyde and other harsh chemical treatments.
Florida Green Building Council Residential Green Standards
According to FloridaGreenBuilding.org, "Builders who use FGBC's residential green standards reach beyond 'minimum requirements' and that's why certification is an important part of our process. We use independent third-party experts to review a home's construction so that its owners can be assured their home will perform as expected in several critical areas such as:
Energy Performance – Exceeding code requirements and reducing energy costs
Water Conservation – Reducing water usage both inside and outside the home
Site Conditions – Minimal site disturbance and utilization of native plants
Healthier Home – Use of products and materials to create a healthier interior environment
Materials – Use of locally produced, resource-efficient materials and recycled content
Disaster Mitigation – The ability to withstand natural disasters and pests such as termites"
Click the button below to learn how the Environmental Protection Agency(EPA) strategically regulates aluminum and vinyl window performance.