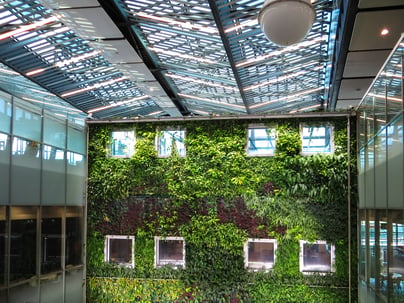 The construction industry hasn't had the best reputation for sustainability due to its severe impacts on the environment.
However, through advanced research and technology, the industry is transitioning from harsh commercial concrete materials to sustainable materials and practices resulting in sturdy structures and positive impacts on the health and well being of the planet and people who live on it.
You can't have a concrete jungle without a substantial amount of commercial concrete—or can you? Most of our city buildings and homes are developed using this greenhouse gas producer, but there are equally durable materials construction professionals can use to reduce the impact of greenhouse gas emissions.
The following are 8 eco-friendly, sustainable materials building professionals can use to build sturdy structures while reducing their environmental impact.
#1 Bamboo
Bamboo is a highly durable material and a great floor and cabinet option.
#2 Grasscrete
Grasscrete is an open patterned alternative for driveways and sidewalks that reduces the amount of concrete used and allows for grass to grow. Bonus: it improves the absorption of storm water and drainage.
#3 Hempcrete
Hempcrete binds the woody inner fibers of the hemp plant with lime to create a durable, light material similar to concrete. Because it's lighter than concrete to transport, there is less energy used to transport it from manufacturing plant to build site.
#4 Recycled Plastic
Recycled plastic is used in several ways, including as a concrete alternative that's light, reduces greenhouse gas emissions, and frees up landfill space.
#5 Wood
Wood is still an advantageous building material because trees absorb CO2, require less energy to process, and is renewable.
#6 Ferrock
Ferrock is a fairly new material made from steel dust and recycled materials that absorbs and traps CO2 during its production.
#7 Mycelium
Mycelium is another material still in its infancy, but it's 100% naturally comprised of fungi and mushroom root structure.
#8 Sheep Wool
Sheep wool can be used as a healthy and natural insulation material.
To have a positive impact, it's essential to implement best building practices and utilize the most eco-friendly, sustainable building materials for your projects—which open up more doors for you and provide several benefits, especially if it's a LEED home.
It takes more than just one sustainable material to create a truly eco-friendly, sustainable and energy efficient home, from the pavement and framework to the insulations and installations. Learn more about how EAS windows and doors are the finishing piece of a holistically energy efficient home.