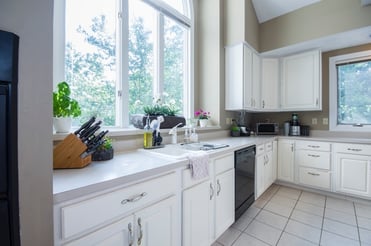 A dash of sugar and a pinch of spice may make everything nice, but your indoor kitchen herb garden takes your cooking to the next level of delicious.
There's one catch to growing your year-round herbs inside!
They need plenty of water and about six hours of daily sunshine! Your herbs will also need to be planted in pots with good drainage.
What are the best windows to let lots of light in and help you grow delectable, flavorful basil, parsley, rosemary herbs?
Top 5 Kitchen Windows for Your Indoor Herb Garden
These horizontal roller windows are an aesthetically appealing and energy efficient solution to letting plenty of light brighten up your home and nurture your kitchen herbs. Plus, they're built tough enough to withstand hurricane winds and Made in the USA Certified ®!
These impact vinyl casement windows are a great choice for security conscience homeowners who want sunlight and protection.
With a multi-point lock, these windows offer enhanced security over other casement windows on the market. In addition to added security, you can also enjoy high-end aesthetics and plenty of sunshine.
These picture windows allow for plenty of sunshine and help bring in the outside scenery.
Designed to not only look beautiful, Bertha Picture Windows have a nearly impenetrable barrier to air and water, and a better thermal barrier than most other windows—12% thicker!
If you live in a high velocity hurricane zone and want to grow herbs in your kitchen, then these Bertha single hung vinyl windows are for you.
Built to withstand higher winds than our other single hung windows, our Bertha line of windows are also proud to boast the Made in the USA® certification.
These single hung aluminum windows are ideal for superior strength and durability, and maximized protection against water and wind-borne debris keeping your kitchen herb garden safe during the toughest winds and water.
Plus, when combined with the optional insulated glass, these windows also offer enhanced energy efficiency over traditional aluminum windows.
Click the button below to see more window sunshine solutions to help you grow your kitchen herb garden.