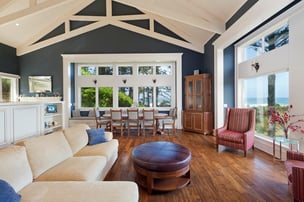 Though they may not endure blizzards and earthquakes, Florida homes are subject to their own type of severe weather patterns, such as hurricanes. Windows and doors are a part of a home's envelope that help insulate and protect your home's interior from varying unwanted outside elements.
However, not every window and door installation measures up to the task.
Hurricane windows and doors are specifically designed to help protect your home during the most severe weather. These installations have been engineered to withstand strong winds and weather conditions that standard glass has not gone through, which helps protect your family, belongings, and home from wind-borne debris and other damages.
The Ample Benefits of Hurricane Windows & Doors
Aside from hurricane protection, hurricane windows and doors provide homeowners with several other benefits, including:
Energy efficiency
Safety and security
Potentially lower insurance rates
Improved home value
Hurricane Windows & Doors Explained
Just because you have an impact glass installation does not necessarily mean it will pass the smell test for certain building codes. Impact glass helps protect your home from wind-borne debris. Hurricane windows and doors, on the other hand, are constructed to meet specific build codes (especially those in high velocity hurricane zones, HVHZ) and undergo rigorous additional testing.
At Eastern Architectural Systems, for example, we manufacture and design several window and door styles and glass packages to meet a variety of needs for our discerning buyers. And our Bertha line of installations, as listed below, are designed to meet and exceed Florida Building Code's strictest requirements, including for homes in the High Velocity Hurricane Zone such as Miami-Dade and Broward counties.
How Hurricane Windows and Doors Work
Hurricane windows and doors have a laminated pane of glass which is typically made from two glass panes and reinforced with a polymer layer in between.
Those two pieces of glass play an integral role in hurricane windows and doors performance as the polymer layer will remain standing even if the glass is shattered upon impact. This is how these installations protect your home from rain, debris, strong wind gusts, and glass shards from intruding during a hurricane.
The framing materials and the quality of the installation are two additional factors that can affect hurricane windows and doors performance.
Find the Best Hurricane Windows & Doors For Your Home
Florida homes are subject to a variety of harsh weather conditions, such as hurricanes and wind-borne debris. Replacing your windows with hurricane windows and doors are a great way to reinforce your home's envelope and protect your family and belongings from unwanted outdoor elements.
Click the button below to download our complete product brochure and see which HVHZ certified and Florida Product Approved installations make sense for your home.