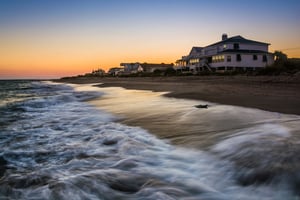 You have chosen a cozy home on the seashore where you can enjoy the Florida sunshine year-round. There's only one season that may have you biting your nails, hurricane season.
Hurricane season is from June through November, but there is no need to overwhelm yourself. We have plenty of solutions that can help protect your home when the season peaks--especially if you live in a high velocity hurricane zone (HVHZ.)
In addition to hurricane season, there are a few other things you should consider when living on the beach. We won't go outside of our realm of expertise, so, as window and door pros, we'll stick to what you should keep in mind to best maintain our high-performing window and door installations.
2 Considerations When Living on the Beach
Living on the beach has many perks--we're not too sure how many people wouldn't mind living on the beach in Florida. But, there are a couple of things you should consider to keep yourself comfortable and your home safe especially during hurricane season.
1. Maintaining Your Windows & Doors
Your windows and doors are an investment that can work overtime for your home reducing your energy bills and keeping you safe from any unwanted intruders.
The salty ocean air has an artistic way of decorating the glass fixtures that you may not be too keen on. We suggest doing a warm water rinse to the exterior glass pane four times per year to protect against mineral stains, such as salt.
While we're on the subject of cleaning them, here are a few additional tips for the best wash.
Rinse your windows and glass doors prior to washing them
Use a green cleaning solution and microfiber cloth
Avoid over-cleaning them--aim for once a month
2. Impact Glass
If you are living on the beach, impact glass is a must. When the winds start, you'll appreciate the fact that you updated and installed impact glass windows in your home if for no other reason than for protecting and preventing windborne debris from breaking through your window.
These sophisticated glass installations have a sacrificial layer of glass that may crack upon impact, but your window will still be standing without further home damage or glass shards left in the aftermath.
If you're ready to better protect your home from hurricane damage, lower energy bills, and more, then click the button below to download our window shopping guide to help you create the perfect window that meets your lifestyle and home design needs.