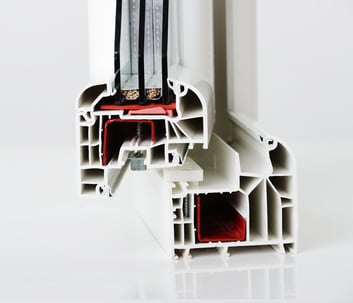 Whether you're repairing or replacing your windows, they are designed to help insulate your home. They also happen to be the most vulnerable parts of your home, which is why quality matters!
If they aren't working or functioning correctly, then it may be time for an upgrade. When shopping for your next set of windows, keep in mind form, function, design and protection.
While the glass and style of your windows are important, the framing material is also important to meeting your lifestyle and comfort needs.
4 Types of Window Frame Material
There are plenty of window frame materials to consider. The following four are the most common choices.
Wood Window Frames
Wood window frames are the oldest window framing material to date and are still a popular choice that offers a certain look and enhanced strength that's been adapted to modern code and building standards.
However, wood is a porous material that requires maintenance. If not properly maintained, they may show signs of rot, significant expansion and contraction depending on moisture and climate fluctuations.
Modern technology has developed more efficient, synthetic alternatives, which you'll read about below.
Fiberglass Window Frames
Fiberglass is another popular, durable material made from extruded fiberglass and is easy to maintain.
This material is known to be resistant to extreme climate fluctuations, such as Florida summer heat. This is because it's similar to the glass pane materials, allowing for the materials to contract and expand the same amount when there's temperature fluctuations.
However, it's a pricey option with less framing colors and shape varieties, but this material is able to be painted.
Aluminum Window Frames
Aluminum frames are more durable and thinner than wood frames.
In order to reduce heat loss and condensation, they are often lined with a thermal break of foam or extruded vinyl and have a finish that offers protection from coastal salty air.
This window frame material is known to be long-lasting, low-maintenance and very modern.
Vinyl Window Frames
Vinyl window frames have become one of the most popular window frame options, known for their low maintenance, design, energy efficiency, price point and variety.
They are designed to handle the effects of UV light beating down on them over an extended period of time. Vinyl framing is available in a variety of colors and styles, but the main benefit homeowners love is the insulation it provides.
The hollow spaces within the frame helps make them resistant to heat loss and condensation.
Click the button below to access your copy of our shopping guide to find the perfect framing and complimenting glass package for your energy efficient windows!