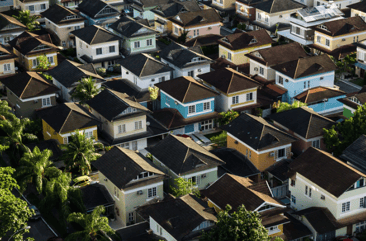 Remember the child's tale, The Three Little Pigs? Would you want a frail home built of straw and sticks or a solid home built of bricks when the big bad wolf comes knocking?
Whether you agree that regulation is the answer to the world's challenges, there is a need to implement uniformed building code regulations for your safety and protection.
Floridians enjoy oceanfront views and salty sea air, but when mother nature's hurricanes and tropical storm winds blow through your town, you'd want to be sure that your home's foundation will stay standing to protect your family and valuables.
That's why Florida Building Code matters! These codes are updated triennially, every three years, to meet recent structural strength, stability, energy conservation, ventilation needs and more, ensuring your home has optimal safety, energy efficiency and that you have overall peace of mind.
Highlights of the Florida Building Code & Why it Matters!
The following are highlights taken from Florida Housing's Overview of the Florida Building Code and how it's evolved to better serve you:
Implementation of the first edition of the Florida Building Code was authorized by the 2000 Legislature.
It governs the design, construction, erection, alteration, modification, repair, and demolition of public and private buildings, structures, and facilities in the state.

In 1974, Florida adopted a state minimum building code law, and local governments could amend and enforce their local codes as they desired.
"When Hurricane Andrew hit South Florida in 1992, it revealed the deficiencies of the state's existing building code compliance and enforcement processes. Andrew broke all records for insurance losses, and was the direct cause of Florida's worst insurance crisis in history. It became obvious that building codes and their administration and enforcement was a statewide issue with statewide implications. Poor compliance or enforcement in a single county could wreak havoc with homeowners, developers and commercial interests in every corner of the state."
Reforms proposed by the Florida Building Code Study Commission in 1996 included a streamlined uniform family of codes, strengthened administration and enforcement of codes and enhanced compliance with codes through education, training and discipline.

The 1998 Legislature adopted the Study Commission's recommendations and amended Chapter 553, Florida Statutes, Building Construction Standards to create a single minimum standard building code that is enforced by local governments.

As a performance-based code, builders have flexibility in the means and materials they utilize to meet various compliance standards.

While the health, safety and welfare of the public are paramount concerns embedded within the Florida Building Code, the Code also serves to protect your property, insurers and local government mitigation costs resulting from natural disasters.

The fiscal impact statement must include "the impact to local government relative to enforcement, the impact to property and building owners, as well as to industry, relative to the cost of compliance."

Although the Code is uniform in nature, provisions allow for local permissive exemptions related to smaller size and minimal cost additions or repairs performed by property owners and non-owners respectively.
Click here to read the full Overview of the Florida Building Code. To learn about our Florida Product Approved window and door ratings, download your complimentary copy of the brochure below.