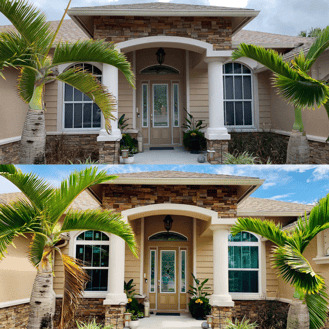 Oftentimes, homeowners believe they have to choose between tinted ENERGY STAR doors or impact glass ENERGY STAR doors. The reality is that they can have both. In fact, nearly any treatment or glass package can compliment a tinted door, except for low-e coatings because the combination of the two may alter the color of the glass.
Glass tints and low-e coatings benefit homeowners in different ways. For example, tinted ENERGY STAR doors provide homeowners:
Enhanced energy efficiency
Increased privacy
Controlled natural illumination
Less interior fading
Glass tints help reduce the amount of heat and light transfer, but should glass door tinting be left to the professionals or can you DIY at home?
While you can purchase tinted films and apply them to your existing ENERGY STAR doors, it's only a quick fix--not a long term solution. Florida's sun exposure is strong and will eventually deteriorate and peel the film at the corners.
In the long run, it's better to have your impact glass doors professionally tinted.
Until recently, there was a limited variety of aesthetically appealing glass tint options. Though, with the help of technology, there are more effective and nearly invisible selections to increase your privacy and lower your energy bills.
Aesthetics aside, there are a few intricate details to factor in when tinting your ENERGY STAR doors, including the following two rules of thumb:
Avoid using tinted films that have a 50% or higher solar heat absorption
Don't use automotive film on your residential impact glass installations
On the other hand, Low-E glass coatings are the better choice if you prefer more protection than solar radiation absorption and reduced heat.
Low-E glass coatings are the next step up from tinting your windows and doors. The coating is applied to the internal glass to separate both heat and light energy. Low-E glass coatings reflect the heat back to the source allowing the short wave light to pass through for natural illumination.
Would You Tint or Apply a Low-E Coating to Your ENERGY STAR Door?
Both tinting and applying Low-E coatings to your ENERGY STAR doors provide homeowners several, different benefits. Which would you apply to your doors?
Click the button below to learn more about energy efficient windows and doors with our Homeowner's Guide to Energy Efficient Windows & Doors.