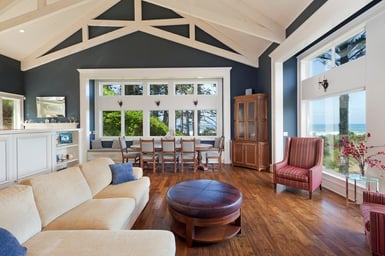 Chances are that you immediately think of hurricane protection when you hear or see the term impact windows—especially if you are a Floridian. Standard windows offer little to no protection against hurricanes which is why many homeowners choose to upgrade their installations to impact glass selections to better protect their homes from impending hurricane damage.
However, there are several additional ways that EAS impact windows provide you with year-round home protection.
Year-round Home Protection with EAS Windows
Eastern Architectural Systems windows can help keep your home protected not only during hurricane season but throughout the entire year. The following are five ways EAS manufactures high-performance installations that provide year-round home protection.
#1: Improved Home Security
Hurricanes may be the most talked about threat to Florida homes, but break-ins are also often top of mind for homeowners. EAS impact windows can improve your home security because they are strong enough to stand up against hurricane-force winds and intruders.
#2: Enhanced Energy Efficiency
Due to their thick, layered design, impact windows can also enhance your home's energy efficiency which can often result in reduced energy bills. EAS impact glass windows help reduce your home's energy consumption by reflecting outside heat to help it better regulate the interior temperature.
The sun's intense rays can also damage parts of your home's interior, such as discoloration and fading of furniture, floors, artwork, and more. Installing the right window solutions and treatments for your spaces can help reduce these damages.
#3: Reduced Noise Pollution
Noise pollution can negatively impact your health. You may not be able to avoid it everywhere you go, but you should be able to escape it when you are in the comforts of your own home. EAS double-paned windows and doors, quality weather stripping, and additional insulation can help better insulate your home and keep outside noises outside.
#4: Made in the USA Certified
Our core beliefs at Eastern Architectural Systems are quality, reliability, and integrity. We infuse each of these values into our complete line of custom-made, aluminum and vinyl, impact, and insulated impact windows and doors. Each installation is tested for strength and integrity and designed to exceed the requirements and challenges of homeowners.
EAS is a manufacturer of Earthwise windows and doors, and all Earthwise products are Made in USA Certified ®. This means a lot to us as we believe in our country, and in the communities where we work and live. We are also the only manufacturer in Florida that produces Earthwise vinyl windows.
#5: Simplified Hurricane Protection
Hurricane protection is another way EAS impact windows help protect your home. The strength of impact glass varies but each should be able to withstand many Florida hurricanes and storms for simplified and superior hurricane protection.
Our high-quality glass is sourced from well-known and trusted suppliers like Cardinal Glass, to ensure quality and maximize strength. All our products meet Florida's toughest building codes and have product approvals from the most well-known agencies.
EAS Windows for Superior Home Protection
Being a Florida manufacturer, we understand the importance and grit it takes to defend a structure or home from hurricane damage. And we also understand that windows can benefit homes in many more ways than hurricane damage.
Click the button below to download our FAQ Infographic and learn more about who we are and how we strive to help you best protect your home.