During Hurricane season, Florida's weather becomes less idyllic and more unpredictable. During this time of year, you must prepare for the worst, which includes installing the best hurricane shutters.
Simply having high-quality storm panels installed goes a long way towards keeping your house in one piece should you find yourself in the middle of a storm's path. Not only do the storm panels provide you with peace of mind, they also increase your home's value while helping ensure your insurance premiums stay low.
Storm Panels
Since each home has different requirements, there are several different types of storm panels to select from. The most common panels include:
Aluminum

Steel

Clear polycarbonate

Fabric
Once the type of panel has been selected, storm panels are carefully cut to meet the exact needs of your home. Attached anchors and tracks make assembling and installing the storm panels relatively easy. Once the storm has passed, they're equally easy to uninstall and store.


Fabric Panels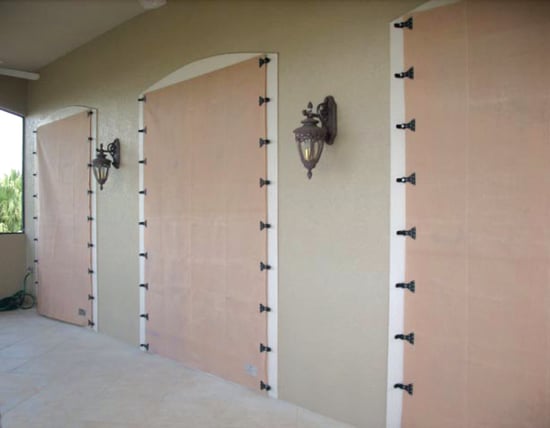 Don't be fooled by the name. Fabric storm panels are more effective during hurricane force winds than they sound. The fabric can withstand up to Category 5 winds and most objects will bounce right off them. The great thing about the fabric panels is that one person can easily install them, and they can be rolled up and stored in a box, which is perfect for homeowners with a limited amount of storage space.
Accordion Shutters
Accordion shutters are the best hurricane shutters for homeowners who worry about how they're going to install their shutters when they're in the path of a hurricane and how to store the panels during the offseason. The accordion shutters are designed to remain on your home year-round. When the storm approaches, the homeowner simply pulls the accordion shutters closed. Once the danger passes, they fold back and fit tightly against the wall or frame.
Accordions are excellent hurricane shutters for:
Large patio openings

Balconies

Doors

Low set windows
Roll Shutters
Many newer homes in Florida are being built with roll shutters already installed and many homeowners across the state love them. The shutters are designed so they can't be seen from the road or inside your home, so they don't impact the aesthetics of your home.
Some roll shutters are set up on a motorized system so the homeowner can use a remote control to open and close them, while others have to be handled manually.
Bahama & Colonial Shutters
Bahama Shutters
Shutters with a hinge attached to the top of the shutter and lowered and attached at the bottom are called Bahama Shutters because they have a beachy, tropical appearance. Not only do they protect windows during storms, they also reduce the amount of sun exposure a home receives.
Colonial Shutters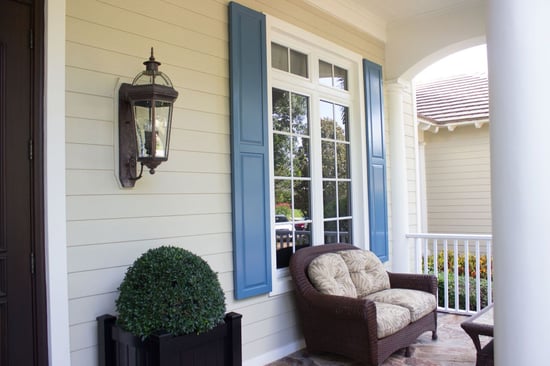 Anyone who has toured an old colonial estate has probably noticed how the windows had hinged shutters which allow the shutters to swing open to the left and right of the window, similar to tavern doors. While open, Colonial Shutters fasten to the wall which prevents them from banging.
The nice thing about Colonial Shutters is that they're attractive and give the home a kind of old world elegance. Locking bars add additional protection with this type of shutter.
Considering the many benefits that come with having access to the best hurricane shutters, there's no reason for you home to remain unprotected during the upcoming hurricane season.
Eastern Architectural Systems' parent company Eastern Metal Supply (EMS) is committed to providing the best impact glass solutions and hurricane shutters so that homes are properly equipped even for the most dangerous storms. EMS established the American Shutter Systems Association, an organization devoted to researching, developing, and testing hurricane protection products and ensuring that they're in compliance with all FBC (FL Building Code), MIAMI DADE, TDI (TX Department of Insurance), IBC/IRC and ASTM (American Society of Testing Materials) Building Codes.
To learn more about the best hurricane shutters click below: