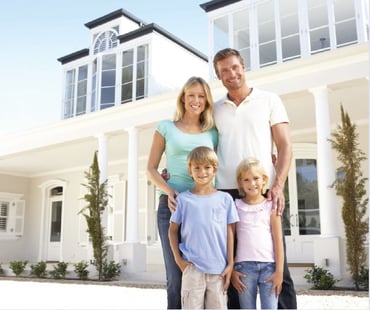 Replacing your windows can be a big investment, so it's important to make sure that you hire a licensed and reputable window contractor that offers excellent customer service and good prices.
Being confident you've chosen the best window company for the job will help ensure that you are getting quality windows installed at the right price. So how do you find a window company that offers all of this?
It all starts with doing your research! In this case, research simply means asking friends, family, neighbors, coworkers, and doing a bit of googling.
Getting referrals is very beneficial because these people have first-hand knowledge of what it's like to work with the company. They can tell you all the pros and cons (if there are any) of the company that replaced their windows.
Now, if no one you know has recently replaced their windows or you feel like you want more companies to choose from and more information, not wot worry! The internet can provide you with the information you need, including reviews, photos, contact information, proof of licenses and training, and more. After doing your research, try and narrow your options down to about 4-5 companies.
Unfortunately, there are some companies out there that are not legitimate window replacement companies. This is why it's necessary to have a few companies to choose from. Once you get to the next step of calling the companies, you will easily be able to weed out any companies that are not completely legitimate businesses.
Calling the companies you've narrowed it down to is very important in helping to make your decision. There are some important questions you should be sure to ask:
Are you insured and licensed?
What credentials do you have?
Will you provide a written contract for the job?
How long have you been in the business of replacing windows?
Can you provide me with references?
Can you show me some previous work you've done?
What brands of windows do you carry?
Do you offer brands that have the Good Housekeeping Seal?
Do you offer Made in the USA Certified products?
If a company seems great thus far, you can then ask:
Do you have a showroom?
Have you won any awards?
Do you have memberships with professional associations?
The last three questions aren't necessary, but they can help differentiate good companies from great companies.
After you narrow it down to the final few companies, you should visit the company to get a proposal (offers many different options and prices for different types of windows) or estimate (offers only one option and one price and is not typically as consumer-friendly as a proposal) for the job. Evaluate the documents carefully and focus on the details, including:
Product options
Schedule
Warranties
Permit costs
Payment
Right to rescind
Once you have done this, you have equipped yourself with all the information you need to find the best window company for you!
Check out the Dealer Locator on our website to help you get started with your search. EAS dealers are the only ones in Florida that carry the Good Housekeeping Seal, a 2-year money-back guarantee on top of what is offered through the dealer and manufacturer.
If you're interested in understanding the importantance of hiring a licensed contractor rather than an unlicensed one, download our infographic that explans all the benefits.
Call EAS today at 800-686-8902 to get more information!
---