Southeast Building Conference (SEBC) wrapped up their 2016 Expo in Kissimmee, FL late last month—we were there, were you?
If you missed out or just wanted to reflect on all the excitement and education last month, then stay tuned.
For those of you who don't know about SEBC, they are the largest regional building industry tradeshow in the Southeast and typically hold a 2-day expo and educational trade show during the summer.

This show offers residential and commercial building professionals the opportunity to network within and learn about their industry.
EAS Marketing Manager Rachel Kramer attended this year's show and had nothing but rave reviews about the show when her and the EAS team came back, saying:
"EAS felt that it was a huge success this year, and we enjoyed exhibiting at the show. It was a great way for us to meet other professionals in our industry."
The Industry Pros Who Attend
There are multiple facets of the building industry, and the attendees travel to the show from all over the Southeast, including Tennessee, Texas and Virginia to the Carolinas, Louisiana, Mississippi and Kentucky.
Some of the building professionals we got the chance to network with included:
Builders

Remodelers

General contractors

Developers

Building code officials

Architects

Trades professionals

Interior designers
People who attend this show know that this is one of the best ways to connect with the housing and building industry's top decision-makers and leaders.
SEBC 2016
Each day of the show had an expo hall and educational sessions with some additional networking opportunities later in the evening, such as happy hour and an after dinner beach bash.
This year's show included keynote speakers from Consumer Reports, the Wall Street Journal and Houzz, and there were over 60 hours of education offered from industry leaders.
Since last year, there was a 20% increase in residential and construction exihibitors and a 60% increase in building industry educational offerings.
We won the "Best Island Booth!"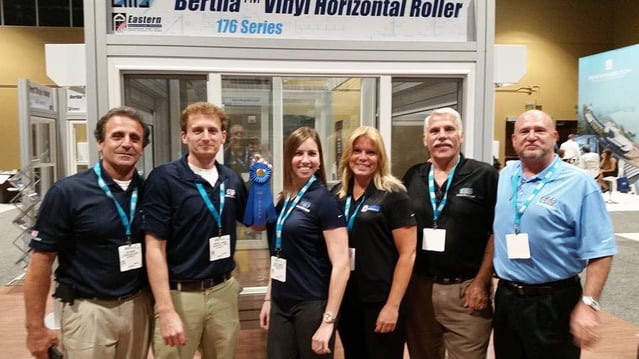 EAS team featured in the above photo from left to right: Joe Barioli, Raffaele Barioli, Rachel Kramer, Kristin Anderson, John Jedlicka, Martin Schumacher
And the Winners Are...
The last day of the show included the presentation of the Excel and Aurora awards; for either award, the participant has to have entered the contest beforehand.
Aurora Awards
The Aurora Awards feature 55 categories and encompass all areas of residential, commercial and remodeling industries. Find out who the 2016 Aurora Award winners are and who judged this contest!
Excel Awards
The Excel Awards honor the marketing and sales professionals during the tradeshow. Find out who those talented 2016 marketing and sales professionals are and all the sponsors involved.
Don't Miss Next Year's Show!
If you didn't get to join in on the exciting hustle and bustle of this year's SEBC show, there's always 2017's trade show. To stay up-to-date with SEBC happenings and updates, follow SEBC on Twitter @SEBC2017!