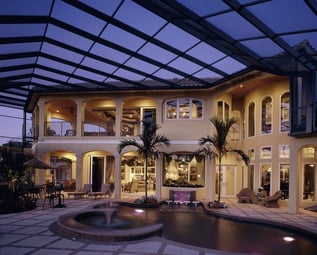 Doors are a part of your home's envelope helping keep your home secure from unwanted intruders or outdoor elements. However, depending on the installations you choose, your sliding glass doors can benefit your home in additional ways.
When you are looking for the best doors to complement your home, whether you are remodeling, building, or just replacing outdated installations, EAS has a wide range of customizable solutions, including:
Impact glass
Low-e coatings
Impact insulated
Non-impact
Tinting
Argon gas
PVB interlayer
An Eastern Architectural System sliding door provides your home with the holistic solution it has been missing.
3 Beneficial Features of an EAS Sliding Glass Door
When you live in Florida, or along the coast, there are certain features you look for in a glass door that go beyond aesthetics and initial price points.
At EAS, we understand the value of combing function and aesthetics of your door in order to accommodate your home, location, and lifestyle.
Our customizable aluminum and vinyl glass doors are designed with various features that promote the following benefits for your family, wallet, and home.
#1: Energy Efficiency
Floridians battle the sunshine's heat nearly all year round which can wreck havoc on an HVAC system. EAS sliding glass doors are high performance installations that are designed to better insulate your home which improves not only your home's energy efficiency but your comfort and lifestyle needs too. You can accomplish this through our tinted or low-e coating glass options.
#2: Storm Protection
Hurricanes and severe storms are also a reality of living in Florida. Owning a home in the Sunshine State means that it will be subject and vulnerable to harsh weather conditions--especially during hurricane season.
Storm protection is a highly sought after feature in a sliding glass door and our entire Bertha line of products are designed for the occasion. They are able to help keep your family and belongings safe as they can withstand the harsh winds and wind borne debris that accompany turbulent weather.
#3: Aesthetics
Sliding glass doors help connect your home to nature and allow ample sunlight to illuminate the room which can enhance your home's aesthetics. EAS sliding glass door solutions accommodate a variety of lifestyles, budgets, and design preferences through an array of customizable features.
Our sliding glass doors are carefully crafted with our cutting edge, state-of-the-art machinery and processes, ensuring quality production equipped to suit your large scale commercial, residential, new construction and retrofit projects.
Click the button below to download our guide and learn more about how high performance installations (like ours) can help your home achieve energy efficiency.