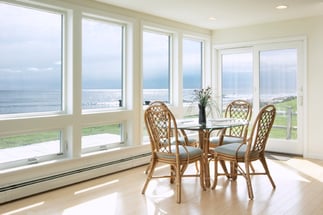 Windows—all homes have them, but not all are designed to withstand heavy impacts. Windows are a part of the home's envelope, but the average single pane window is fragile and can be broken on impact.
The term "impact" alone should help paint the picture as to why impact windows are highly sought after and why their prices may be a bit more than your average non-impact glass window installations.
However, it's not just the added value of impact resistant glass that makes these windows a notch above the rest.
3 Facts About Impact Window Prices
Below are 3 facts about impact window prices that can help you better determine if they are the best fit for your budget and home!
1. Window Style
Depending on your design preference and lifestyle needs, there are several different types of windows available. Each style has varying benefits and price points affecting price window. Styles include:
Architectural Windows
Casement Windows
Picture Windows
Double hung Windows
Single hung Windows
Horizontal roller Windows
2. Glass Treatment
Glass treatments, such as tinting or low-e coatings for added energy savings, will also increase the window price. However, you'll be saving on your utility bill in the long run.
3. Framing Material
The framing material of your window plays another role in pricing and may further enhance the window's overall energy performance. Common framing materials include:
Evaluate Your Impact Window Prices
While the initial impact window price may be a bit more than a non-impact window, they hold their value over time, protect your home during severe weather, and may even provide several additional benefits, such as energy efficiency.
Download your copy of our Shopping Guide today to learn more about impact glass, framing materials and glass treatment options available to you.